Hallmark Enters Licensing Agreement with A&E's Hit Show "Duck Dynasty"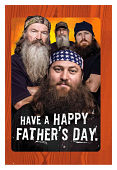 June 5, 2013 – Beginning this Father's Day, "Duck Dynasty" fans will have new ways to connect with each other, thanks to a multi-year agreement announced today between A+E Networks Consumer Products and Hallmark Cards, Inc. The licensing agreement gives Hallmark rights to images, quotes and sound clips from A&E's top-rated program and cable's most-watched non-fiction series, "Duck Dynasty." The series follows the Robertson family, owners and operators of Duck Commander, a successful duck hunting supply company in the Louisiana bayou.
"Featuring pop culture icons like 'Duck Dynasty' on products is a popular way for people to connect for Father's Day, birthdays and other occasions," says Cindy Mahoney, Vice President, Hallmark Licensing. "We believe 'Duck Dynasty's' humor will appeal to a wide range of consumers, even beyond the show's dedicated fans."
"Duck Dynasty" licensed materials will be featured on Hallmark greeting cards, gift books, stationery, ornaments, gift wrap and more in the U.S. and Canada. Hallmark subsidiary DaySpring, a leading supplier of Christian greeting cards and gifts, also has rights to use the licensed materials on its products, which are distributed in the Christian retail channel.
"As the Robertsons continue to break through the fourth wall and connect with consumers in meaningful and unique ways, we're excited to enter into a partnership with Hallmark, the leading greeting card brand in the world," says Kate Winn, Senior Vice President, A+E Networks Consumer Products. "With their reach and expertise, we're looking forward to translating the 'Duck Dynasty' brand into new product lines and increasing the show's exposure in numerous ways."
"Duck Dynasty" characters will first appear on Father's Day greetings available exclusively in select Walmart stores. In July, Hallmark will introduce "Duck Dynasty" humor cards for everyday occasions, including birthdays, in select Walmart stores. By mid-September, a full display of "Duck Dynasty" cards, gifts, books, gift wrap and plastic cups will be available in Walmart stores through the holiday season.
This August, DaySpring also will introduce school supplies featuring "Duck Dynasty" in select Walmart stores. The line will include spiral notebooks, three-ring binders, composition books and folders. DaySpring also plans to release a "Duck Dynasty" wall calendar later in the year.