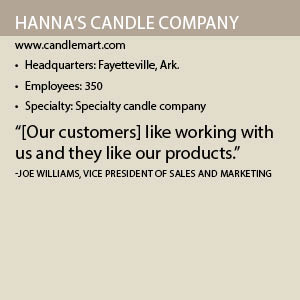 Williams says the small group allows the company to be "flexible and nimble" when making decisions. "We do not have to call a board meeting or ask investment groups for their permission," he explains. "All we have to do is call one another, discuss what we want to do and ask for each other's opinion. From there, we will make a decision on the spot and implement any new idea or process we want immediately."
Key Advantages
Hanna's Candle Company is known for producing a good product at a very competitive price, Williams says.
"That doesn't mean we are the cheapest and we are certainly not the most expensive," he notes. "However, when you can produce at a very competitive price and ship on time, it makes your customer feel confident that they are going to get the product they ordered."
The Fayetteville, Ark.-based company's customers include WalMart, Sam's Club, Aldi, Meijer Stores, Publix, Walgreens and many more grocery and drug store chains nationwide.
"We also have our own brand, private label and licensed products," Williams notes. "For example, our licensed products include Hershey's and Jolly Rancher, both of which sell very well. We also just signed a contract with David Tutera, a celebrity wedding planner/designer and reality television star. We'll have a complete wedding line in his collection."
Hanna's Candle Company's suppliers play a "very big role," according to Williams, in the company's success. "Many times our purchase orders do not come in as timely as we would like," he says. "Even still, our suppliers are very good about helping us to ship on time. From fragrance houses to packaging companies, they all work to ensure we're meeting those tight deadlines."
Expanding Capacity
Unlike other candle companies that have to order their machinery from suppliers, Hanna's Engineering team designs and makes all of its machinery in its 30,000-square-foot facility.
"We have one of the largest machine shops in Arkansas," Williams says. "Our ability to make our own production equipment – in our own facility – saves time and financial resources."
Recently, the company's melt business, which makes up one of its production lines, has been a source of high growth. "It has continued in that fashion as we expanded the melt line to be more efficient," Williams notes.
Hanna's is now revamping its pour production line, which will make substantial improvements on the lines productivity.
"Expanding the line will allow us to run faster and be more efficient," Williams says. "We hit a point last year where we had many employees working 10 hours per day, six days per week for about four months. That put a lot of strain on everyone having to work 10-hour shifts daily. So we are expanding the width of our lines so we can produce 25 to 30 percent more product in a shorter period of time."
Additionally, the candle company has invested in graphic equipment to print labels in-house as well as screen print. "We are now able to screen print in-house, even on jars," Williams says.
"We have made these changes not only because they will allow us to be more efficient, but also to provide our consumer with a more personalized, one-of-a-kind product. Which makes everyone happy."
Working Together
Hanna's Candle Company has a dedicated workforce, according to Williams. "We are very fortunate in Northwest Arkansas to have a great group of people," he says proudly. "We also have a really low unemployment rate at 3 percent."
With its small executive team, the company also seeks buy-in from its employees, which have played a key role in the company's success. "In our front office we have about 25 employees, majority of whom have been here for at least 20 years," Williams explains. "They are very loyal to us, and in return we are very loyal to them."
Williams adds that the work culture is family-like. "We support each other when we experience things not only at work, but also at home, whether it be with our children, weddings, divorces or deaths," he says. "For example, there is a young man in our sales department who paid for college by working in our lab and production operation. When he graduated he started working full-time in our sales department. There are many people that enjoy working here because we work with them and are flexible to their needs."
Additionally, the company finds it valuable to not only train its employees for their respective jobs, but also on its production process.
"All of our salespeople have to work in our production area for about three to four weeks because we want them to understand the basics of how candles are made," Williams says. "It's one thing to sell a candle; however, it's another thing to tell a customer how it's made and what makes it special."
Ultimately, Williams notes that he is most proud of the people he works with. "I respect them, they respect me and that creates an enjoyable work environment," he says. "I know that our customers feel the same way about Hanna's Candle Company. They like working with us, they like our products and know we are supplying a high quality product at a reasonable cost. So, we've achieved our goals and hopefully, made them happy in the process."
Looking ahead, Hanna's would like to expand into the grocery market. "We are doing well in the retail market; however, grocery is an area where we would like to see significant growth," Williams says. "In addition, we are also investing time and resources into our online ventures and are seeing some nice results in that arena. Candlemart.com was updated and re-launched in 2012, and offers all of our products available for purchase," Williams says.
"Weddingcandles.com is a relatively new site, where you can personalize and customize your candles," he continues. "For example, let's say you are getting married and want a candle jar that has you and your partner's names and wedding date on it. We can screen print that information on one jar or more than 1,000. So, no matter what our customers are looking for, we feel can meet their every need with an affordable, high-quality product, assembled and poured here in the U.S."