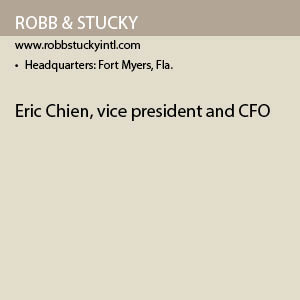 Under the new ownership, Robb & Stucky opened three additional locations in Naples, Sarasota and Coral Gables, Fla. Its fifth location in Boca Raton will open this summer. "Boca Raton has always been an important part of our roll-out strategy," Chien says. "We will establish a strong foothold on Florida's east coast like we have done on the west."
Catering to All Tastes
In the early 1900s, Robb & Stucky's clientele included Henry Ford and Thomas Edison. Today, the company most often caters to high-income baby boomers who are buying second homes or retiring in Florida. But with expanding product lines and varied price points, Robb & Stucky hopes to broaden its consumer base. The company offers traditional to contemporary furnishings and price points that are tiered to "good, better and best."
"Florida's seasonal second and third homeowners can afford higher-priced furniture," Chien says. "But by expanding our product assortment, we are able to serve our core customers and include working professionals who reside in Florida year-round."
Although almost 80 percent of each showroom's merchandise is core product, Robb & Stucky dedicates the remaining 20 percent to market-specific product. "The west coast is a very seasonal market and retirement community," Chien says. "The east coast is a totally different market and clientele. Miami, for example, has a younger demographic with an eye for modern design, therefore our Coral Gables-specific assortment is much more contemporary."
To bring back those customers who were left with negative impressions of the company, Robb & Stucky's new leadership spent a lot of time educating them on the new ownership and worked to regain their trust. "In retail you have to focus on every step and get every little detail right, and in retail, there is a lot of detail," Chien says.
When it comes to attracting new customers, Robb & Stucky promotes its Realtor Rewards Program to local realtors as a way of building a relationship with new homeowners in the area. "This program is a great channel for exposure," Chien says. "We give realtors who have signed up for our program a Robb & Stucky complimentary gift card to give to their clients at closing. These new homeowners enter our store and work with our designers to design their new home. It's a great way of connecting with customers who are serious about interior design."
Designed for Life
Robb & Stucky's website is loaded with product information and with a new corporate office and larger distribution center being build in Fort Myers, e-commerce is on the company's horizon. "We're focusing on building a distribution center that will sustain a larger warehouse staff and inventory, so when we do decide to launch e-commerce, operationally we will be ready," Chien says.
Robb & Stucky is the largest employer of designers in Florida and once its Boca Raton location opens it will employ around 170 people. Fifty-eight of those will be seasoned designers who are experts in luxury interiors and the company's product lines. Every designer goes through an extensive month-long training on the products and operating systems. They are even given a tour of the warehouse so they understand the entire operation from design consultation to delivery.
Ensuring new hires fit into the company culture is paramount to the success of Robb & Stucky. "We have less bureaucracy and an open environment," Chien says. "People feel free to express their opinion and we are like a family. I always tell our employees, 'It's important to enjoy your work and love what you do because when you follow that golden rule you can't help but be successful."
People are the company's biggest asset, Chien says. "We are lucky we have a great team here," he adds. "We have hired people from the previous Robb & Stucky who have been working in the market for many years and we also have new people who have never worked for the company. We have a great balance between a vast knowledge base and fresh ideas."
Moving forward, Robb & Stucky will continue to search for new markets such as Aventura, Palm Beach and Orlando to open new showrooms. "We will continue to focus on Florida and make sure we continue to offer luxury home furnishings, brilliant design and the best in customer service," Chien says. "Our goal is to obtain sustainable growth so we can be a part of Florida's culture for years to come."