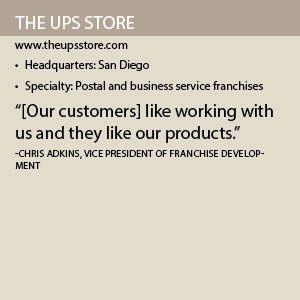 Adkins notes that The UPS Store was never designed to be a group of corporate owned stores, as all locations are franchise owned and operated. "We are much better at leading, developing, training and supporting the franchisees," he says.
Expanding Services
As part of that back office support, small business owners will find a virtual one-stop shop for all of their needs. Aside from traditional mailbox rental (which gives a legitimate street address for a business), services also include business cards, notary services and, in some cases, even inventory management solutions. "Our franchise owners absolutely know they are trained to be problem-solvers," Adkins notes. "UPS is synonymous with 'United Problem-Solvers.'"
To maintain its focus on the small business owner, The UPS Store team is continuously rolling out new services. One of the latest offerings is a "print on demand" service. This allows customers to enter a printing job online, have it printed at a local store and delivered to them in an hour. According to Adkins, testing of this service has begun in Chicago and Dallas, and early results have been strong, especially with small businesses and business travelers.
In 2013, The UPS Store began offering 3D printing services for prototypes or one-of-a-kind items. This service is offered at 63 stores nationwide, but it is expected to expand to other stores as 3D printing becomes more mainstream. Additionally, The UPS Store has also begun offering identity certification services through secure capture of electronic fingerprints, making it easier for businesses that require and validate identification when screening or hiring employees. Employers, non-profit organizations, federal and state agencies can communicate to their members, employees, and volunteers that this service is available at their local The UPS Store and would direct them to the network of stores.
Non-Traditional Locations
In addition to an ever-expanding suite of services, The UPS Store is also constantly experimenting with ways to improve on its basic concept. In April 2017, it opened a store on the campus of Belmont University in Nashville, Tenn. The store represents a unique partnership in that it will not only support its retail customers, but will also serve as the central mail center for the university, handling all incoming mail and packages for 8,800 students and employees.
It is also the first location nationwide to offer a 24-hour package locker system that gives students the option of retrieving packages at the time that best suits them. "The concept has worked very well so far," Adkins reports. "We would love to build on our roster of university stores, which already includes Louisiana State, Arizona State and roughly 30 others across the country."
In an effort to expand its offerings and services, the UPS Store has also begun expanding in both rural and urban areas. In recent years it has rolled out its "Main Street Model," which has reduced franchise fees for people who want to start a franchise in a rural or underserved location, without reducing any of the services offered.
Just as important, The UPS Store also introduced its store-in-store concept. These stores differ from stand-alone and non-traditional locations such as hotels, convention centers and universities. Instead, these stores occupy a smaller footprint inside existing high-traffic retailers, such as hardware and grocery stores. There has even been a store that opened inside a pharmacy in Elizabeth, N. J.
Extensive Support
A rigorous training process awaits anyone who wants to open a UPS Store. "Our training is pretty robust," Adkins explains. "New franchisees go through extensive online training, spend two weeks working in an existing UPS Store, then spend another two weeks at The UPS Store university at the corporate headquarters in San Diego, with three of those days dedicated to mastering printing services."
Once someone becomes a franchisee, the support continues to be extensive. There is a three-day franchisee network convention every other year where franchisees are updated on new services and attend seminars on marketing, profitability strategies and new technology. "Our process is ongoing," Adkins says. "We visit our stores every quarter, as we really want to educate and motivate the franchisees to continue to grow their businesses."
The UPS Store ongoing training and support efforts have received industry recognition as well. Its Sales & Service Training Workbooks have won two awards from the American Society for Training and Development, and The UPS Store is a past recipient of the PEAK award by the same group for its University Business course. "We want customers to have a consistent experience at all of our stores," Adkins says. "So there is a constant effort in terms of teaching owners how to sell print services or how to upsell or cross-sell."
5,000th Store
The results of its training and support methods have led to remarkable growth. "We now have over 4,900 stores, and we expect to open our 5,000th store this year," Adkins says. "In fact we have opened more than 100 stores a year, every year since 2012."
In 2017, The UPS Store ranked No. 4 overall in Entrepreneur Magazine's Franchise 500 list. This was based on factors like financial strength and growth rate, and the UPS Store trailed only behind 7-Eleven, McDonald's and Dunkin' Donuts. Currently, The UPS Store franchise network has a store located within 10 miles of 84 percent of the U.S. population. And as UPS continues to help Fortune 500 companies such as Amazon with return/repair/recall services, the number of stores should continue to grow, Adkins predicts.