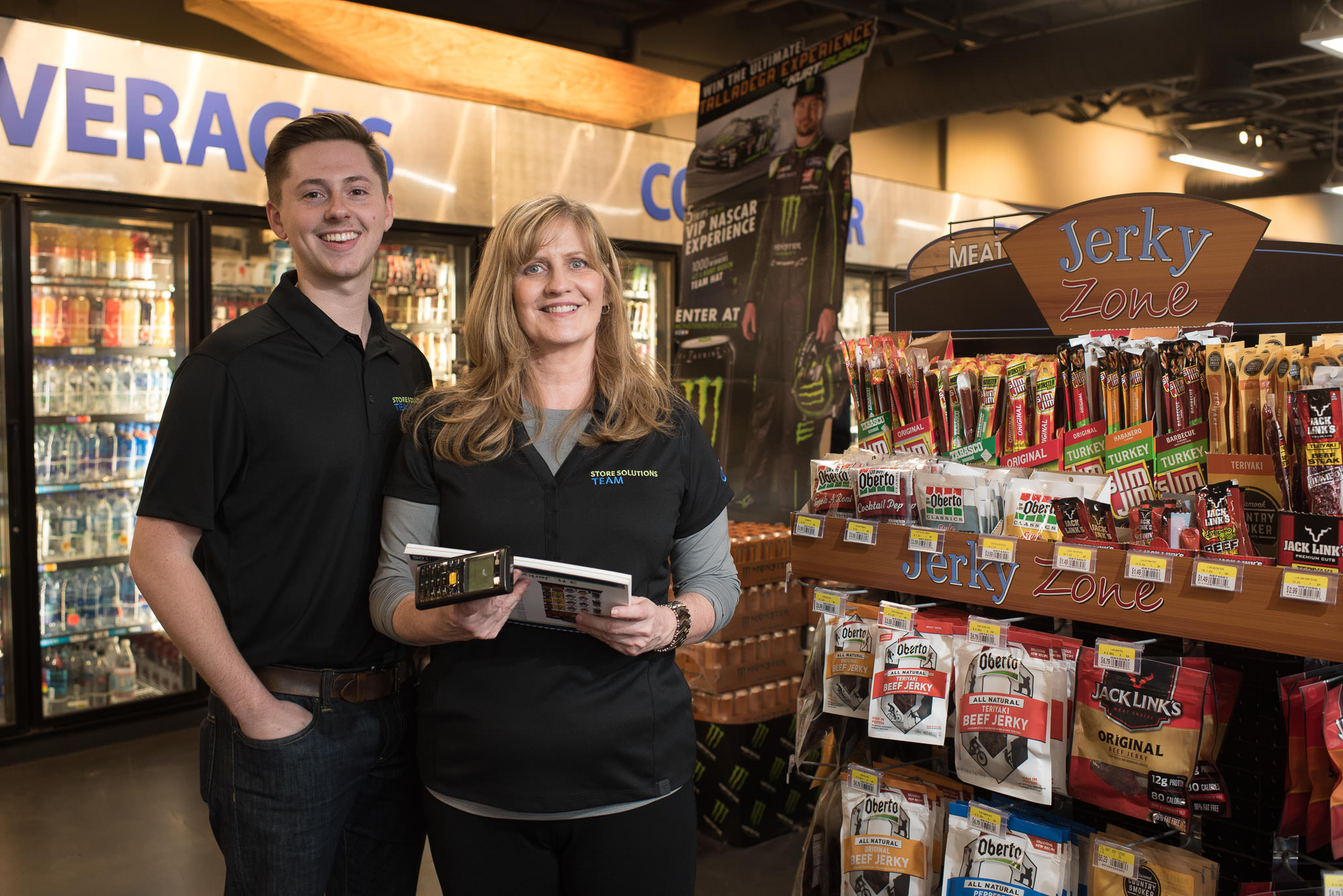 Harbor Wholesale Foods demonstrates its long-term commitment to customers
through a culture of service and responsiveness.
By Staci Davidson
Harbor Wholesale Foods is coming up on 95 years in business, and the company credits its focus on customers for this longevity. It has designed its entire operation on ensuring it is flexible and responsive to the evolving needs of the market, and as a result, it is constantly prepared to help its clients be successful.
"Being 95 years old, we have a very long-term commitment to our customers," CEO Justin Erickson says. "We don't make decisions that are short-sighted, we are invested in long-term, win-win relationships. Just knowing our customers can run profitable businesses and succeed will benefit us."
Based in Lacey, Wash., Harbor Wholesale Foods was founded in 1923 as West Coast Produce Company by Carl V. Erickson, a Swedish immigrant. In 1954, the company changed its name to Harbor Wholesale Grocery to reflect its increased focus on the grocery market, and more recently, it became Harbor Wholesales Foods because foodservice is more important to its customer base. Justin Erickson is part of the company's fourth generation of the family to lead the business, and this generation is as dedicated to serving customers as their great-grandfather was.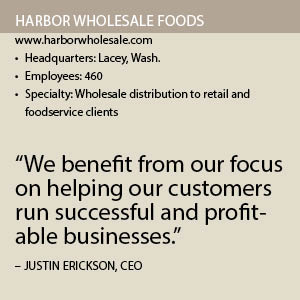 Harbor Wholesale Foods is focused on working with small- and medium-sized regional businesses in the Pacific Northwest. Whether customers have a few restaurants, manage a bar, run a single convenience store, operate a resort gift shop, own a small-town grocery store or a small chain, Harbor Wholesale Foods has a comprehensive product offering and fresh solutions to help them succeed in their ventures. The company also is the region's largest distributor of convenience products, but backs that up with timely, accurate deliveries, as well as personal service.
"What's kept this company going is that the family is involved, engaged and committed to the business, and we continue to invest in its growth," Erickson says. "We've had growth nearly every year we've been in business, and that requires the family to commit to expanding our assets and continue to build the business. That dedication has kept it going for four generations, but our underlying success is the culture and that we are expanding our family culture beyond our own family to our team members and customers. We have true care, concern and commitment to our customers' successes."
Flexible and Responsive
Harbor Wholesale Foods remains committed to customers' successes through the strength of its culture, as well as is dedication to ongoing improvement. Although the family ownership has changed over the years, the company continues to be dedicated to its people. Harbor Wholesale has more than 460 employees, and Erickson notes it is important for the organization to always work on being flexible and responsive to customers' needs. It achieves this by approaching customers as consultants and collaborating with them to help them with various issues, such as ensuring they have the right mix of products or assisting them in lowering their food costs.
"This can be a challenge as we grow and add more people, but it really comes down to our people and internal culture," he explains. "We spend a lot of time working on leadership goals with training and a commitment to our values. We want the leaders of the departments to have an emphasis on responsiveness to customers, so we can change quickly and stay ahead of our competitors.
"We have many people who have been here a number of years, so this level of service is ingrained," he adds. "We can identify quickly people who don't fit that culture and make a change if we have to, because supporting our customers is important to us. Our expectations are high."
At the same time, Harbor Wholesale continuously works to improve its operation. The company built a new 200,000-square-foot warehouse in 2011, and this year it implemented a new warehouse management system (WMS), allowing it to offer inventory scanning, enhanced food traceability and voice-directed order selection. The company also has web-based customer portal, which allows users to completely manage their Harbor purchases with online shopping, creation of shopping lists, the ability to review and modify open orders, review order history, and establish margins based on their desired parameters. Harbor Wholesale is dedicated to investing in technology and material handling systems to ensure accuracy and speed for its customers.
"We are a small family business, but we do have a state-of-the-art distribution center and technology in the back-end of the operation," Erickson says. "The new WMS allows us to be more efficient and accurate, because safety is super important in this business. A lot of times people assume smaller companies don't have those resources, but with technology smaller companies can move faster to adopt new things because it doesn't affect such a huge organization. We have a good technology hub in the Pacific Northwest, and we are linked to Microsoft with our main ERP system provider."
Erickson notes that as foodservices continues to grow and develop in the retail market, Harbor Wholesale will continue to help its customers facilitate that. The company wants the convenience stores in its region to be able to compete on the local level, as well as with industry majors such as Target and Amazon Go, so Harbor Wholesale plans to further invest in automation and expansion in its distribution centers. This will allow it to handle more foodservice items, fresh products and frozen foods, Erickson says.
"Our warehouse culture is very performance-driven and we do a lot to hire the right team of people who are competitive and like to work hard and hit our objectives," he says. "To support them, we give a lot back in terms of benefits and fun parties. We'll go in on a night shift sometimes and serve strawberries and ice cream or have a pizza night – it's important to us to let the hardworking people in the warehouse know how much we appreciate them."
He stresses the company's culture also is important in the delivery side of its business. "We have a fairly new fleet of trucks, but it is important to us to hire and retain great delivery drivers," Erickson says. "They are a crucial part of our success because they interface directly with customers every day. There is a nationwide shortage of drivers, so it takes a strong culture to hire and retain the people we need to do that job. We've found hiring is much easier if you retain who you have."
Positive Impact
Harbor Wholesale Foods is getting ready to launch a new gourmet-quality coffee brand, adding to the list of brands that are exclusive to the company. Its recently launched Watertown Coffee program is an exclusive brand tailored to the discerning tastes of NW coffee lovers with high quality expectations. Harbor's new Split Shift Coffee Co. brand is aimed directly at the hard working and adventuresome millennial consumers looking for an experience, not just a cup of coffee. Both programs are designed to maximize customers' gross profits, and were created by professional roasting experts to deliver the quality taste profiles the region expects. All of the coffees use the highest-quality Arabica beans sourced directly from origin, and Harbor's staff will furnish, install and service the equipment.
Erickson explains Harbor Wholesale will continue to develop more brands and invest in more foodservice programs and products, as well as snacks and fresh foods to help customers remain competitive. The company has a lot planned, he says, and notes Harbor's team will help it achieve all of its goals, especially as it works toward its 100-year anniversary.
"The team we've put together can keep this company going forward at the size we are today, because they are trained and able to deliver the company's values across a large geography," he says. "There is a lot of family pride here. What we've done with a small mom-and-pop family business over the years, I wish my grandfather and great-grandfather were here to see what we've become. I don't think they ever envisioned this level of success as they were trying to eke out their livings.
"Additionally, I am proud of the positive impact we have had on our customers and the community," he continues. "We really contribute to our customers' success and what they are able to do in their communities. Not only do we provide good jobs and good livings, but we do a lot of philanthropy locally to share in our success. We feel fortunate to have that opportunity."