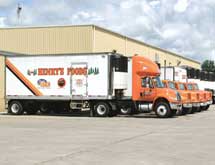 This full-line foodservice, c-store, and grocery store provider finds ways to help its clients manage the industry's priciest challenges. The rising cost of commodities isn't a trend that's expected to reverse at any point in the future. For retailers large and small, finding ways to reduce the impact on consumers is an ongoing challenge, which means they're looking for strategic partners to help them trim the fat without trimming their bottom line.
For single-owner operators across Minnesota and in the eastern Dakotas, that partner is Henry's Foods. Established in 1929 as a candy and tobacco distributor by Henry Eidsvold, the company has since evolved into a food distributor serving c-stores, grocery stores, and foodservice outlets such as bars, taverns, and cafes.
The evolution of Henry's came in 1990 when it purchased a grocery distribution company in Alexandria, Minn., its current headquarters. Prior to the acquisition, Henry's wasn't big enough to buy groceries direct. After, it found inroads into grocery distribution and started buying direct.
This move boded well for Henry's as, at the same time, c-stores were starting to switch their focus from being service stations with small candy displays under the front counter to the full-service convenience stores we see today. "We were then able to take care of the majority of their business, meaning they could buy candy, tobacco, and groceries from us," said Brian Eidsvold, vice president.
Although Henry's expanded its product assortment extensively, it's never strayed from its original customer base, which includes single-owner operators trying to make a living off of their single-site business. As a result of not being part of a larger chain, these operators don't have access to the same resources and information larger operators do, including manufacturer-based purchasing incentives. This is where Henry's comes in.
Typically, explained Eidsvold, manufacturers will promote chain programs for c-stores in which they'll offer the chain rebate offers for buying a certain bulk amount and stocking a certain number of items. "Generally, those rebates are restricted to chains, but we deal with the manufacturers on the same platform," Eidsvold explained. "We provide product to our entire customer base of 500 c-stores, so we can then provide those same offers."
For example, Henry's will approach its customers and let them know if they carry a certain number of SKUs and take a certain number of shipments throughout the year, the company will give back whatever percentage of rebate is in the program on those purchases. Even better, Henry's will also track the data for the operator, collect the money from the manufacturer, and pay its customers at the end of the year if they've qualified.
"We track it all and make sure our customers are in compliance," said Eidsvold. "The manufacturer can always double check on a website and see what any given retailer is doing and how the programs we've offered are doing."
Take a taste
Although its c-store business is important, Eidsvold feels for Henry's to survive going forward, especially given the rising challenges in the tobacco industry, it must put a greater focus on foodservice. And to be a major player in the foodservice business, having a decent kitchen for manufacturers or manufacturer brokers to cook new items is imperative.
Last April, Henry's opened its test kitchen in some existing warehouse space attached to its headquarters. Because there was enough warehouse space leftover, it then created a training center for its sales representatives and district sales managers to learn how to cook the food and to be hands-on involved in developing how to present the items to customers.
Currently, Henry's sales representatives are being trained on its DeliMax program, which is its branded pizza and sub program. From the ins and outs of how the program works, the items within the program, and how to properly prepare the food items, once a month, the company schedules a sales meeting and brings in some of its reps.
Eidsvold said the center turned out beautifully, and although the company is still massaging exactly how to use it to the fullest extent, it's already made a difference for brokers coming in to make their presentations. "Rather than cooking the items in a pizza oven in our break room or in a Fry Daddy, they can now cook the food the right way," he said.
In addition, Henry's can now bring in its customers and, one on one, present them the new opportunities for their menus. "We can make 10 appetizers, and they can sample each one to see which will appeal to them and to their customers," Eidsvold said. "It's turned out wonderfully."
The test kitchen has opened the door for Henry's to bring in new foodservice business as well. For seasonal businesses, Henry's will handpick which items would work best, invite in potential clients, and wow them with a beautiful facility and tasty treats. But regardless of who uses the kitchen, Eidsvold said the primary reason Henry's developed it was to increase sales.
"We developed this center, which one of my brokers told me was the best training kitchen in the region, to increase our sales reps' knowledge and improve their ability to garner more foodservice sales," he said.
Keep it strategic
Today, Henry's operates a 165,000-square-foot modern warehouse with more than 600,000 cubic feet of freezer space. It handles more than 12,000 items and employs more than 175 individuals.
With a warehouse of that size and that many people working with its contents, it's easy to understand how Henry's needed to invest in a receiving system to make sure all products were being handled in a timely manner, not only for efficiency purposes but also to eliminate needless waste. "We're getting shorter shelf-life dates as our manufacturers are leaning up their processes in accordance with government regulations," Eidsvold said.
With the new receiving system, Henry's will be able to receive the product, record the receiving and expiration dates, and know exactly where the item is in the warehouse and when it needs to be moved. Once the system is up and running, the idea is to enable the buyers to also look at the information.
In addition, if Henry's receives a shipment of product about to expire, the company can call up the manufacturer and plot out a plan to handle the product rather than just throwing it away and potentially taking a loss. "Whether the manufacturer wants to pick it up or give us a half-price deal so we can do a close-out in our customer's stores, we'll be able to develop a strategic plan," Eidsvold said. "From there, our sales reps can tell our customers instantly about the sale and have the promotion ready to go at a much quicker pace."
This type of a system will be of increasing importance going forward. "In the past few years, there have been more recalls, more short-dated items, and greater attention paid to food labeling," Eidsvold said. "We absolutely see the potential from a cost-savings standpoint."