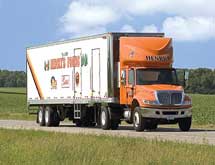 For 80 years, this organization has remained strong, and despite a down economy, its footprint continues to grow. Alexandria, Minn.-based Henry's Foods ties its roots back to 1929 when founder Henry Eidsvold took on a dairy route that stretched around parts of rural Minnesota. From there, he began to sell candy, and eventually he began to offer cigars and cigarettes to his customers too.
Throughout the decades since, Henry's Foods has undergone many changes. Today, the company operates as a wholesaler, delivering an assortment of products to retailers across parts of Minnesota, North Dakota, and South Dakota. With a staff of 160 employees, the business generates approximately $150 million in annual revenues.
"Throughout the 1990s, there was an explosion in the c-store arena, and we concentrated heavily on the foodservice end of it, primarily focusing on convenience store delis, mom-and-pop cafés, and bar and tavern businesses," said Brian Eidsvold, vice president of Henry's Foods.
Since that time, Henry's Foods has continued to grow, and its team has concentrated on three main markets: candy and tobacco, grocery, and foodservice. With that trio of products, the company can supply convenience stores with everything they need, and the range gives the company a leg up in terms of buying power.
Although the retail industry is one of the hardest hit by the current economic climate, Eidsvold said Henry's Foods hasn't been negatively impacted. "Although people are starting to cut back on their finances, the products we're selling are generally the last things people cut back on, considering we deliver their tobacco, their morning cup of coffee, and their mid-afternoon candy bar or energy drink," Eidsvold said.
"These things are a relatively minor expense, and they're the last to get cut during a recession," he added. "When people are stressed, as they are now, they're actually less likely to give up their crutches—whether that's alcohol, tobacco, or caffeine."
Beyond their reach
Henry's Foods' infrastructure consists of just a single warehouse, but through a virtual product program, Eidsvold and his team can offer their customers a product assortment that exceeds the physical capacity they can store inhouse. According to Eidsvold, the program is set up primarily for produce, milk, and grocery products but is also used, to a lesser extent, for restaurant equipment and supplies like plates, glasses, and ladles.
"Essentially, the program allows us to offer everything to our customers in a seamless manner," he said. "For example, there's no way we could possibly carry all of the produce items our customers want, so we partner with a Minneapolis organization called H. Brooks & Company. As a result, we can offer all of their products to our customers."
When a Henry's Foods customer orders a product that isn't housed at the Alexandria warehouse, Eidsvold and his team process the order and send it over to the appropriate partner company. The product is then shipped to the Henry's Foods facility and subsequently delivered to the customer in a timely manner.
"This is great for us and for our customers because although we may not carry a product in our warehouse, they still have easy access to it, and we can deliver in good time," Eidsvold said. "We first introduced this in the grocery arena in early 2008, and then we added milk during the summer and produce in summer 2009."
Physical investments
In terms of physical investments, the team at Henry's Foods has recently expanded the space in its Alexandria warehouse. "We built a mezzanine in the cooler, which essentially doubled our picking slots. It was a fairly substantial investment, but it has turned out really well."
In addition, the organization plans to build a kitchen/meeting room area in the coming months. The new area will allow Henry's Foods to prepare food onsite and hold demonstrations for existing and prospective customers in the foodservice realm. It will also serve as an area where manufacturers can visit to present new items to Eidsvold and his team.
"Right now, our situation isn't ideal. We don't have an area like this, so once this is finished, it'll be a great asset," Eidsvold said, noting Henry's Foods has also invested in IT in recent years.
Among other things, the organization has introduced a handheld device that allows its grocery and convenience store customers easy access to specific product information. "In the past, we offered our customers a handheld unit that allowed them to scan items as they walked up and down the aisles of their stores, but that's essentially all the devices did," Eidsvold explained. "Now, we've invested in units that perform other actions."
With the new technology, when a customer scans an item, he or she can see the date they last ordered it and its price, among other things. Customers can also use the units to design plan-o-grams and keep track of inventory, even for items they don't purchase from Henry's Foods.
"I think what sets us apart is the breadth of products we offer," Eidsvold said. "Often, in small towns in rural Minnesota, there are only a handful of businesses in an area. There are only one or two convenience stores, bars, and cafés, and we are capable of going there and servicing all of those accounts. It makes delivery much more economical."