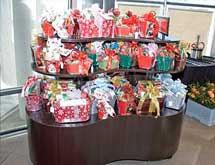 This store fixture manufacturer is holding its own in a down market by listening to what customers want and adjusting to meet their needs. If you think the current state of the retail industry would have a negative impact on a retail store fixture supplier, think again. Retailers needing to adjust and rearrange their stores to better suit the changing market keep KC Store Fixtures busy, although not in quite the same fashion as the company has done in previous years.
Started as a mail-order retail supply company run out of the basement of Leo Galey, president, the Missouri-based company currently services 180,000 customers, 90% of which are small retailers. Although the sales numbers for this year aren't nearly as dramatic as they were in 2008 when the company grew by 60%, KC Store Fixtures' attention to detail and business platform built to address individual retailers' needs has made it possible for the company to stand strong during shaky times.
"We've added a retail chain with approximately 780 stores to our customer base, and the company is looking to do a number of projects that we've designed especially for its products," said Galey. Although KC Store Fixtures has always offered this unique service, it's recently put more attention on it.
"We've always been a small manufacturer of retail stores and custom fixtures for clients but haven't marketed it very strong," Galey said. "In our new catalogue and on our Web site, we are promoting more and more the custom fixture side of the business and POP displays."
For KC Store Fixtures, POP, translates to countertop displays or floor fixtures that sit close to registers. In addition to customizing this particular product line, the company is developing a pegboard system for its new customers that will complement the company's product display.
Pulling back the reins
Needless to say, KC Store Fixtures is holding its own in sales, which is why Galey said he hasn't let go of his goal to double the size of his company in the next four years. Despite the slower pace of growth for 2009, Galey said the company's figures are still in the black, primarily due to his ability to prepare for the downturn.
"Before the election, I started pulling back the reins with corporate spending and by watching our inventory and our other expenses," he said. In watching the company's inventory, Galey made sure not to let commodities, the company's bread and butter, fall to the wayside.
He said 80% of the company's sales are from 20% of its inventories. He reduced the amount of inventory for the items that weren't fast movers, taking those dollars off of the shelves, but he didn't adjust the process with the main 20%. This has been his strategy since October 2008, and it's enabled him to steer away from layoffs and continue nurturing the family-like culture he built the company on.
"We communicate what's going on, why we're doing what we're doing, and solicit employee opinions to make sure we're not missing anything at the executive level," said Galey. For example, when employees mentioned KC Store Fixtures used a lot of paper, the company built recycling boxes and put them at each employee's desk. The company now palletizes all the paper that used to hit the trash and sends it to recycling.
"There will be a day we'll go paperless," said Galey. "It's a little scary to put all of our information into a computer, but this suggestion made it easier to imagine that day and look forward to it."
Exact science
KC Store Fixtures continues to innovate on the product development side as well. In its newest catalogue, the company introduced a modular wire grid system that is not only unique, it is also perfectly suited to handle retailers' needs for the upcoming holiday
season.
"It's economical for someone doing a temporary store because the installation is simple and quick," said Galey. "It can be put together and ready for business in a day."
The new products target temporary seasonal stores and even companies doing kiosks in the hallways of the malls. Another new item, the countertop slat wall spinner, has also received warm acceptance, with one customer putting an order in for 500 already.
To ensure the company develops what is best for the retail market, Galey asks customers what they're looking for and where their needs are not being met. He also never tells the customer no.
"We look at what our customers' requests are," said Galey. "If it's a viable concept to take nationally and put in our catalogue, we make sure we get authorization with them, and a lot of our clients help promote it. What their needs are directs us to what we need to do."
The company also uses its customers' needs to improve its operations, such as how it handles freight costs—one of the biggest challenges posed both to retailers and suppliers. To pull an entire order together and come up with cost-effective freight for a customer is often difficult to do via the Internet.
To combat this issue, KC Store Fixtures is working with a new company to program all the facets of freight and intermix them with small package freight costs, not only saving the retailer money but also providing an accurate estimate. Many of the company's competitors put in their catalogues and Web site that they'll estimate the freight, and if there are any differences, they'll bill the retailer back for it.
"They're basically giving that vendor an open checkbook to say whatever the freight is," said Galey. "This safeguards us and our retailers. Everyone is watching budgets, and when they go online and order from us, they'll know exactly what it's going to cost."