Based in Wantagh, N.Y., this will be the company's second restaurant. Its first restaurant, Iavarone Italian Kitchen & Pizzeria, opened in 1996. The second restaurant will be similar to the original, but considerably bigger. It will include a restaurant, bar, outdoor seating and space for retail sales.
The restaurants are designed to feel like a family-friendly trattoria serving pizzas, classic pasta dishes, desserts prepared in-house and an extensive list of reasonably priced wines.
Both establishments are an extension of Iavarone Bros.' long tradition of providing quality foods in the Big Apple and its surrounding communities. Its chain of European-style food markets, which offer international and gourmet foods specializing in Italian fare, have developed a local fanbase.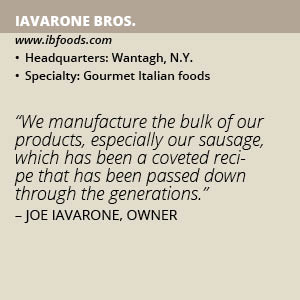 They are known for their prime meats, cheeses, breads, freshly caught seafood, prepared foods, fresh produce and select imported delicacies from around the world.
"We manufacture the bulk of our products, especially our sausage, which has been a coveted recipe that has been passed down through the generations," says Joe Iavarone, a fourth-generation owner of the company. "We really focus on quality, making sure that it's the same product that people remember eating when they were children."
A Community Staple
Founded in 1927, the company started out as a small storefront that sold the company's famous Neapolitan-style sausage. Over the decades, it has grown into a well-established family business with a chain of food markets that offer much more than its famous sausage.
"We're a one-stop shop for everything," Iavarone says. "Our bread and cakes are freshly made. We have a very large selection of cheeses from Italy and around the world and our seafood is locally sourced when available. Plus, we have over 100 to 150 different types of prepared foods in our deli department."
In July and August, Iavarone Bros. Quality Foods markets sell locally sourced corn from Long Island and in March they are famous for their freshly-baked Irish soda bread. Also new from Iavarone Bros. is a thin-crust spin on pizza rustica, the rich and savory deep-dish Easter pie of cured meats and cheese.
"We make very good pizza," Iavarone says. "But we also make staple sausage dishes like our Orecchiette pasta with crumbled sausage and broccoli."
To appease its health-conscious customers, Iavarone Bros. has started experimenting with chicken and turkey dishes. "In our restaurants, we introduced a cauliflower pizza that has been very popular," Iavarone adds. "It's an alternative to the traditional pizza dough."
In addition, the company has introduced healthier options for some of its Italian classics. For example, as an alternative to a deep fried chicken cutlet, which is the staple for many dishes, it offers chicken dish that is breaded but grilled instead of fried. "We have several others that are twists on the classic dishes," he adds.
Crowd Pleasers
Whether it be a small or large gathering, Iavarone Bros. offers a plethora of Italian gourmet foods and flavorful healthy alternatives. Both its restaurants and markets do a lot of catering business throughout New York City's five boroughs.
"Our restaurants do more individual meals like pizzas and our markets do anything from corporate gatherings to engagement parties and weddings," Iavarone says. "We have a 32-page catering menu, of which 10 pages are appetizers."
The catering menu is peppered with an assortment of fresh prime meats, freshly-caught seafood, imported cheeses and delicacies, hand-made baked breads and farm stand quality produce.
Some of its catering menu "crowd pleasers" include roasted turkey, baked honey-glazed hams, roasted suckling pig, prime rib roast, individual beef wellingtons, stuffed Cornish game hens, crown roast of pork, black angus strip loin roast and milk-fed nature veal Osso Bucco.
During the summer, the catering menu offers a barbecue special "anywhere from Manhattan to the Hamptons." Iavarone Bros. provides the food, grill and buffet tables. Its barbecue package consists of homemade sausages, hot dogs, chicken skewers, freshly-made hamburgers, pasta salad and an assortment of sides.
Upgrades include bourbon espresso marinated steak skewers and baby back ribs or an add-on of the "cold seafood barge" with lobsters, shrimp and crabmeat.
About a year ago, Iavarone Bros. introduced online ordering for some of its prepared foods and sandwiches inside its markets and is looking at possibly applying that to its catering menu as well.
"If our customers want to grab cold cuts and don't want to wait in line, they can place orders online," Iavarone says. "We're hoping to expand that to catering. But with a 32-page catering menu, we can't introduce the entire thing at once."
In addition, the company recently has enhanced its customer loyalty program after it upgraded its point of sales system. When they sign up, customers receive promotions, coupons and acquire points that later can be redeemed for products.
A Family Tradition
When Pasquale Iavarone opened his first butcher shop more than 90 years ago, he probably couldn't have imagined that his name would become a household name in many New York neighborhoods. His name would be associated with a successful chain of gourmet food shops renowned for original dishes and quality foods.
Over the years, customers have gone out of their way to shop at one of Iavarone Bros. market locations, allowing the company to evolve. In the 2000s, its stores expanded into full service upscale markets that now features a seafood department and a bakery – in addition to the prepared foods and produce departments.
Today, the fourth generation of the Iavarone Family has entered the business to carry on what will soon be a century-old tradition. The fourth-generation includes Christopher, Jonathan, Jon, Michele and Joseph Jr.
"We want to stay family-owned and operated, which is what separates us from our competitors," Iavarone says.
Over the years, Iavarone Bros. was named Best Delicatessen, Best Off-Site Catering and Best Jarred Sauce by readers of the Long Island Press. The company has also received glowing reviews in Newsday and other local publications.
Iavarone Bros. prides itself on quality and service. Its mission is to offer an enticing culinary journey to its customers through quality foods and products from around the globe.