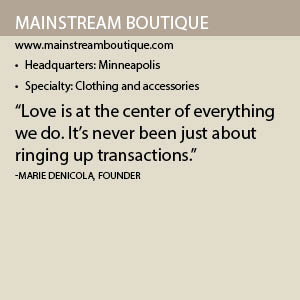 "Our vision is to eventually have 2,000 stores across the country," says Corey DeNicola, the company's CEO and Marie's son. "In the last five years, our growth has been the most significant. By 2019, we anticipate to be up to 150 stores."
Fashion Sense
If you ask Marie DeNicola what's wrong with the retail industry, she'll tell you straight out. "Customer service is missing in retail," she says. "It's all price driven, not customer driven. People want that personal relationship."
Mainstream Boutique's success is due in part to its focus on relationships. Its franchisees are encouraged to build relationships with their communities. That could mean participating in a local blood drive or helping raise funds for a customer who is battling cancer.
"Love is at the center of everything we do," Marie DeNicola says. "It's never been just about ringing up transactions."
Of course, having a good fashion sense doesn't hurt either. DeNicola, formerly a buyer in the fashion industry, takes pride in the boutique's mix of trendy merchandise. Mainstream Boutique stores sell women's clothing, jewelry, accessories and "just about anything you'd find in your closet."
But its secret to success is carrying unique, non-mass- produced products with short lifecycles. Merchandise, at the height of the newest trend, is intended to have a short shelf life. "A lot of our high-volume stores get new inventory every day," DeNicola says. "It gets customers coming in every single week, looking for the current trend."
Mac and Me
Another secret to Mainstream Boutique's success is its focus on multi-generational merchandise. The boutique even has its own private multi-generational label, Mac and Me. That line alone sells between $4 million to $5 million each year. "It's been an incredible success for us and it continues to grow and grow," DeNicola says.
Marie DeNicola's daughter, Mikayla (nicknamed "Mac") is the inspiration behind the line. "The Mac and Me brand essentially represents the bond between mother and daughter," Corey DeNicola says. "It's a very emotional connection."
The brand aims to provide fashions for both mother and daughter. The mother may pick out an outfit that's more on the conservative side, while her daughter may snag something a tad wilder – all in the same store.
Must Love Fashion
Fashionistas wishing to open a Mainstream Boutique franchise must have at least $150,000 in liquid assets and a net worth between $250,000 to 500,000, depending on location. The company charges a franchise fee of $35,000 per location. It also collects an ongoing royalty fee of 7.5 percent and a half-percent ad fund charge. A typical store is roughly 1,700 square feet.
"Our boutiques operate in a unique space in today's retail world," Marketing Director Ben Walker says. "We have the presence and trust that comes as a result of our national brand while at the same time our owners engage on a very local level. Other retailers are either big box or mom-n-pop stores without the trust and opportunities that come with an established retailer."
A successful Mainstream Boutique franchisee must love fashion and have a desire to be a part of their community. This summer, the company launched Mainstream You, an online university for both franchisees and their team of stylists. Franchisees will be expected to spend a few hours per week training online for the first year.