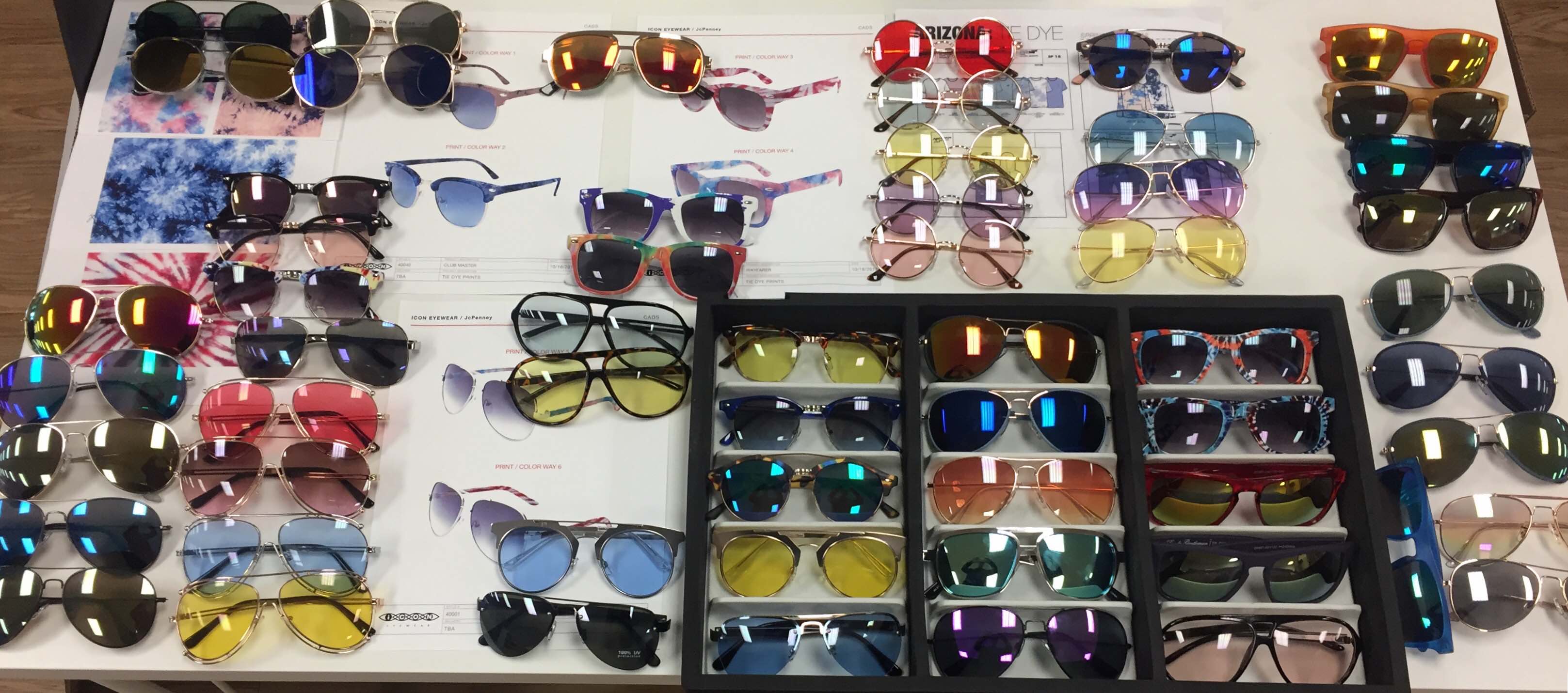 Icon Eyewear is exploring acquisition opportunities and expanding its business model. By Kat Zeman
Preparing for a bright future, Icon Eyewear has assembled plenty of shades. Although it's already one of the largest private-label suppliers of sunglasses and readers in North America, the company is aiming higher.
Its plans include exploring acquisition opportunities, launching new e-commerce sites and closing deals with major global retailers. "We are aggressively looking for acquisition," President Effy Zinkin says. "Icon has always grown organically, but we've been a very healthy company for a long time and we are in the market to acquire another reader or sunglasses brand."
Icon Eyewear manufactures, supplies and imports sunglasses and readers for men and women. Privately owned and operated, it is known for an array of private-label, licensed and proprietary brands. Its private-label retailers – which make up roughly 65 percent of the company's business – include Nordstrom, Forever 21, Urban Outfitters, The Buckle, Ann Taylor, JC Penney, Kroeger, Costco, Target and Walmart.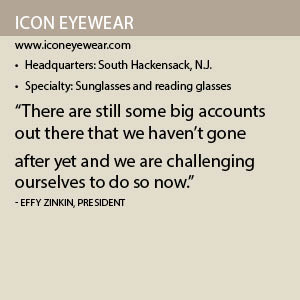 The company states that it has a fast-growing reader business and a licensed brand portfolio that features names such as Dickies, Zoo York, Geoffrey Beene, Franco Sarto and Sag Harbor. "And we are about to announce the first of several new global licenses as we refresh and enhance our license portfolio," Zinkin adds.
Enter E-Commerce
South Hackensack, N.J.-based Icon Eyewear and Amazon this year launched an e-commerce site that is just coming out of its test phase. In addition, the company is launching two more e-commerce sites. Expected to be fully operational by Cyber Monday in November, one site will focus on sunglasses and the other on readers.
"The sunglasses site is about affordable fashion," Zinkin says. "The tagline is 'The Best Brand is You,' with the concept building off accessorizing different looks in one's wardrobe with different complimenting sunglasses."
The readers glasses e-commerce site will feature a new and fun marketing campaign centered around how often people lose their reading glasses and include the option to subscribe to a monthly "reading glass club," he adds.
In addition, Icon Eyewear recently signed an exclusive deal with Costco to supply the wholesale giant's Sun Reader program featuring readers that also serve as sunglasses.
One of the largest factory-direct importers of sunglasses and reading glasses, the company sells to a variety of warehouse clubs, off-price department stores, mass and mid-tier food and drug retailers and sporting goods stores.
"There are still some big accounts out there that we haven't gone after yet," Zinkin says. "And we are challenging ourselves to do so now without sacrificing the individualized attention and unique assortments built for each of our current customers."
On the innovation side, Icon Eyewear is continually seeking new ways to improve its products. For example, it is working on developing reading glasses that are more durable. It's also looking at creating molds that enable the user to change lenses if a different diopter magnification is needed, as well as a first-to-market concept that integrates readers with smartphones.
"We're working with some very sophisticated glass manufacturers overseas to figure out what solutions could work," Zinkin says.
Increased Specialization
Founded in 1987, Icon Eyewear is celebrating its 30th anniversary this year. Due to its blossoming growth, the company hired a number of new senior-level executives and made organizational changes this year.
Among these is the expansion of its sales department into three separate divisions: Department Stores, Specialty and Off-Price; Food and Drug Chains and Clubs; Mass. Rich Rosenfeld – who has more than 25 years of experience in retail, wholesale and planning – is Icon Eyewear's new vice president of sales for the Department Stores, Specialty and Off-Price division.
Adam Scholze, a 25-year veteran of sales management, is the company's new vice president of the Food and Drug Chains and Clubs division. The Mass division is headed by Executive Vice President Michael Cotton, who has been with Icon Eyewear for 13 years but has about 30 years of experience in the industry.
"Our company has grown to a place that in order to properly service our accounts we had to increase specialization," Zinkin says.
In addition, the company's product development and creative teams have been realigned to parallel the new sales divisions. The Product Development, Design and Creative team reports to a new senior vice president, Chris San Juan, who has 16 years of experience overseeing various brand expansion. The Planning Team reports to Patti DeMarco, the new vice president of planning with 12 years of experience under her belt.
Icon Eyewear has a 130,000-square-foot operations and distribution facility in South Hackensack and controls production in eight major factories in Asia. It has international sourcing offices in Europe and Asia, as well as corporate offices and quality control factory teams in Asia.
Zinkin believes that one reason for the company's success is its ability to provide quality products at affordable prices. "Of course our company needs to make enough money to build our business," he says. "But we don't believe in taking the last dime off the table. We work hard to ensure the end-consumer receives a great value-quality."