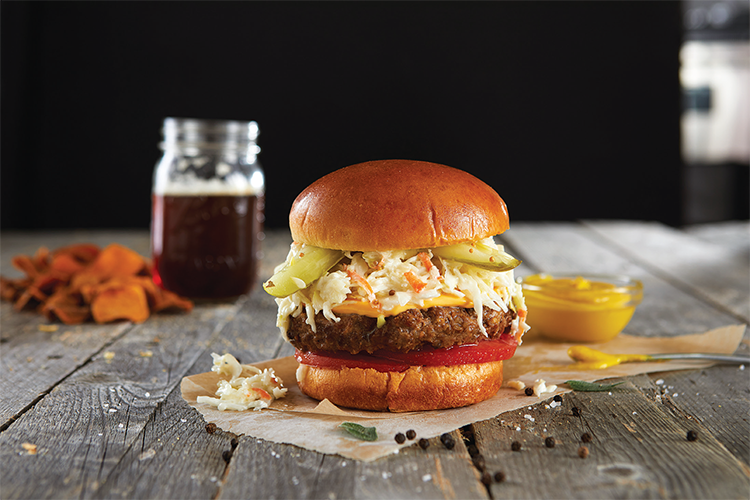 A rare find
With over 100 million pounds of ground beef shipped in 2020, Jensen Meat Company has quickly become a dependable name for delectable products while also incorporating sustainable practices to pioneer the meat industry
For Jensen Meat, the process is simple. First, it begins with the best raw materials tailored to quality specifications. The products are then blended by a skilled and dedicated team who share a passion for Jensen's name. "Our protocols and procedures assure we put out the safest product. We only use safe meat cuts and go above and beyond USDA requirements when it comes to our hygiene regimes, and our patented fill system creates a better tasting product that is juicy, tender, and flavorful," says the Executive CEO, Abel Olivera, who shares with us the developments that are underway at Jensen Meat, particularly the company's drive to bring plant-based alternatives to its menu.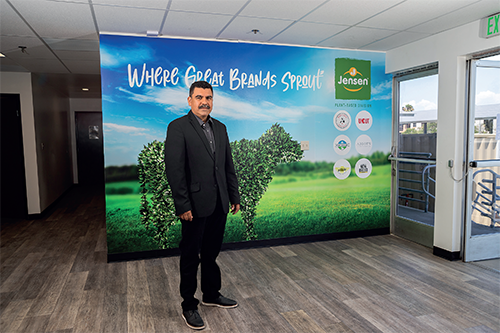 "We are a ground beef processor that supplies a range of beef patties to the foodservice distribution, restaurant, retail,and school markets. Our burger patties range from one-and-a-half to 16 ounces and come in a variety of shapes; from the traditional round burger to an oval alternative – even a more rustic home-style option. Products are either marketed under Jensen's brand or customer labels such as Fat Burger, Sam's Choice, and Sysco," he says. The privately held, leading processor and marketer of high-quality products, located in San Diego, also exports its business to Mexico and is focusing on expanding that venture into Central and South America, as well as the Caribbean. Additionally, it is working with national broker teams to increase its presence and market share across the US and further abroad.
Founded in 1958 by Reggie Jensen, the business produces an average of 75 million pounds of ground beef annually from its new 150,000-square feet, state-of-the-art Californian plant, and manufactures 250 stock keeping units of retail and foodservice products such as individually quick-frozen and fresh patties. "When working with our customers, we like to believe that it's the beginning of a beautiful relationship and know that they will add their own unique ingredients to suit their tastes. Of course, we offer the classic Jensen beef patties, which are seasoned to perfection and made with 100 percent Angus beef. It's ranked one of the best patties in retail and a crowd favorite in several burger competitions. We have also developed the Chuck Burgers and Chuck Brisket brands, the meat of which goes into our Certified Angus Beef 'Bravado' Burgers. They mirror the quality and integrity of renowned CAB fresh cuts and can move from the package to the table in minutes, offering customers that great taste, convenience, versatility, and ease of preparation they seek in easy meals," Abel explains.
Creating beef products to this level is owed, partly, to the company's passion for listening to the desires of consumers, while transparency is the other key ingredient that sets the company apart from its competitors. "We want potential customers to visit our plant for themselves. We build long-term relationships with our suppliers and partners by seeing them face-to-face and making it a point to visit with them yearly."
According to Abel, in the Jensen factory, the classic American Burger that many people enjoy is made from a combination of timeless favorites from the Jensen Blends line. "When you add to the quality of Angus Beef and Premium Beef Brisket, there is a greater space for creativity when it comes to variety," he adds.
It is this creativity that has afforded Jensen Meat the opportunity to provide a wide selection of products to its customers. In addition to the company's classics, it also stocks mushroom patties. "Mushrooms are loaded with many health-boosting vitamins, minerals, and antioxidants. They pack a nutritional punch that isn't typically found in many vegetables. This way, you can sneak COMmore veggies into your diet without having to give up the foods you love," shares Abel.
Other items on its specials board include the jalapeño beef burger – a luscious beef patty stuffed with pepper jack cheese and freshly diced jalapeño peppers for those that like to spice up their burgers – and the Jensen chorizo seasoned beef burgers, which are zesty burgers made from rich, seasoned beef and Mexican-style chorizo sausage.
But Jensen's is not only passionate about delivering delicious beef; it is also determined to be a leader in sustainability in as many aspects of its business as possible, which means introducing innovative ways to reduce the size of its carbon footprint. With this, it has installed solar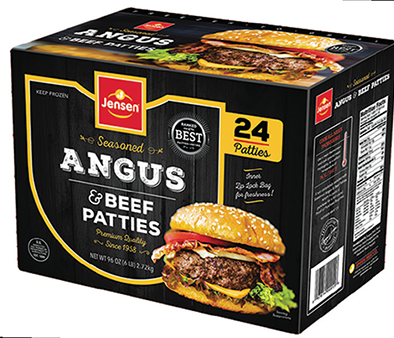 carports in its parking lot and cardboard and plastic generated through our supply chain, and our cold storage facility has a certification for leadership in energy and environmental design," he says.
In conjunction with its greener strategies, recently, the company invested $9 million to expand its operations in Southern California, which has helped increase its capacity and established 50 new jobs. A particularly exciting venture tying in with this development features a line of plant-based products, which will be manufactured in the new facility and is expected to have begun operations by the beginning of September of this year. In doing so, it has opened the doors for new partnerships with plant-based customers to co-pack its products. "We have many innovations in the works. We want to make healthy plant-based alternatives accessible to everyone and we will continue to work with the great entrepreneurial minds in this sector, partnering to provide cost-effective production methods to make the most affordable plant-based products on the market," says Abel.
By all means, pursuing these opportunities has not been easy, considering that the business was one of the thousands to face the full impact of Covid-19. However, with an ambition to keep store shelves stocked, Jensen Meat managed to persevere successfully through the challenges. "Our $9 million investment in our expansion had a positive impact and happened at exactly the right time. We supported the Covid-19 'panic buying' phase and were able to keep up with the drastic increase in retail demand. Unfortunately, the pandemic also created a staff shortage, which I'm sure many companies in our sector experienced. Frankly, it has also been very difficult keeping up with CDC guidelines that seem to be continuously changing, but the safety of our staff is crucial, so we are always pushing to do our best in keeping their working space a safe environment," he highlights.
This mission to put employees first is driven by the company's belief that its team is paramount to the success of the Jensen name. "Some of them have been part of our company for over 40 years, so we really consider our staff a family with the longer-standing members known as our 'lifers'. We owe our success to their dedication and loyalty, especially during the pandemic. Many went above and beyond to keep the factory going and we made sure to reward them. We had around a four percent turnover of staff for varying reasons, and the remaining team offered to cover additional shifts to ensure lines would remain running, and we are so grateful for their commitment."
In Abel's opinion, such a united and sturdy company culture has been curated through a network of career development programs and incentives that include financial benefits and leadership training. "We also host monthly and annual barbecues for staff throughout the year, along with Employee of the Month awards. We have also implemented the Jensen Bucks program, in which we award employees who are dedicated to going the extra mile. Simply, we begin at the top by leading with the example of how we want our people to be treated; with dignity and respect first, and then we throw in some mentoring, motivation, and unity," he emphasizes.
Needless to say, the future for Jensen Meat looks enticing. Although it focuses on introducing sustainable alternatives to the meat industry in more ways than one, the company is still determined to remain faithful to the reputation it has refined and the quality that it has spent all these years strengthening. "The global economy might be choppy as we continue to overcome the pandemic, but history shows we will come out of it thriving. We also want to apply our experience and expertise in producing quality protein products at different price points to the plant-based industry. We hope to make eating healthier an affordable option for all families. As we head into the final half of the year, the business is determined to get its plant-based division up and running. When we started construction, we had one customer; we haven't even opened the doors yet and we have three more! We know we will have to expand again in 2022 but have not yet finalized those plans, so stay tuned for updates," Abel concludes.
www.jensenmeat.com