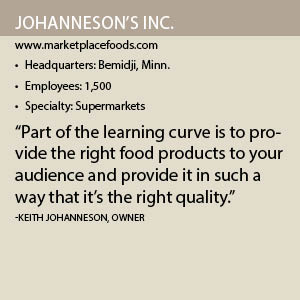 "I think it's the culture I was raised in," he continues. "I was also taught there was somebody out there that has a deeper need than you do, so we always give back." In 2011, the company's community efforts earned Johanneson the Thomas K. Zaucha Entrepreneurial Excellence Award from the National Grocers Association.
Going Organic
Johanneson's father, John, started the business in 1941 and in 76 years it has grown to encompass 10 supermarkets, six liquor stores and several convenience and hardware stores in Minnesota, North Dakota and Wisconsin. Its brands include Marketplace Foods, Family Foods Market and KJ's Fresh Market. Each location has a unique design that matches its community. The store in Bemidji, for example, is located in a modern shopping center and features warm colors designed to appeal to female shoppers and young children. "Our stores are more of a collection of stores rather than a chain look," Johanneson explains.
Johanneson took over the family business in the early 1970s, back when the biggest innovation was 24-hour stores and shoppers still purchased 85 percent of their groceries from supermarkets. Today, consumers' buying activity is an even split between traditional stores and alternative retailers such as restaurants and big-box stores. Like other groceries, Johanneson's Inc. has had to change alongside its customers, evolving from a main street supermarket to a company that sell hot and organic foods.
The most obvious signal of that change was the development of Johanneson's Inc.'s newest store brand, KJ's Fresh Market. KJ's was a response to growing consumer demand for organic and locally produced foods. When it opened in Minot, N.D. last year, the 27,000-square-foot KJ's immediately became the largest organic supermarket in North Dakota.
In addition to serving demand for natural foods, KJ's helps the company explore how to best introduce more organic items to all of its stores. "It's kind of an incubator for us to learn what kinds of things we can possibly migrate into our supermarkets that are successful," Johanneson says. Organic products require a far more knowledgeable staff. It's not enough to say hello to a customer and show them where an item is located on the store shelves. Employees must be able to educate customers on the benefits of organic and all-natural foods.
To create that mindset, Johanneson's Inc. hired a veteran of Trader Joe's to manage KJ's. Further, all employees are cross-trained across different departments so that they can develop a fuller understanding of all the products and fill in at whatever area needs help. A person who begins the day stocking shelves might move over to cashier during a busy period.
Difference Makers
Training employees to educate consumers has been the biggest hurdle to introducing hot and organic foods to its supermarkets, Johanneson admits. "Part of the learning curve is to provide the right food products to your audience and provide it in such a way that it's the right quality," he says. The company has not yet figured out how to offer hot evening meals, but does offer a full deli department with exclusive cheeses, salad and soup bars, prepared salads and catering. Some stores have on-site seating areas for customers who want to enjoy their meals right away while others are purely grab-and-go.
Many of those grab-and-go sandwiches, snack containers and bakery items come from Johanneson's Inc.'s central commissary out of KJ's Fresh Market and are transported to the other stores via refrigerated trucks. The commissary opened two years ago and serves as another example of the company's focus on high-quality, perishable foods. Those fresh items help Johanneson's Inc. set itself apart from big-box stores such as Walmart and smaller retailers with grocery sections such as Dollar Tree.
The other big differentiator is Johanneson's Inc.'s employees. The company looks for people who can educate its customers, a process that has required some adjustments to adapt to the next generation of workers. "Hiring millennials is a challenge for us because their expectations versus what we've used in the past is different," Johanneson says. Millennials value gratification in their work and want superiors who value their contributions. "You learn to listen and you allow them some input into the enterprise so they can have ownership," Johanneson adds.