Karl's TV. AUDIO. APPLIANCES. FURNITURE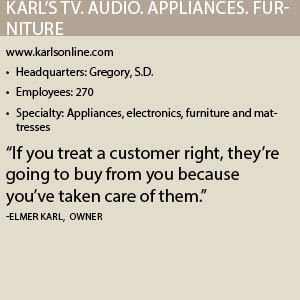 Based in Gregory, S.D., Karl's TV sells appliances, electronics, furniture and mattresses. Karl founded the company in 1956, after working for Marshall Field's in Chicago as a TV technician.
He started the company in his hometown of Gregory as a TV repair shop with a $2,000 loan. "I decided I'd try it for a year or two," he recalls. "If I was broke by then, I'd go west."
But by the next year, he was married and he and his wife grew the business, which added its second location in 1963. Today, Karl's TV has 24 stores in North and South Dakota, Iowa, Nebraska, Wyoming, Minnesota and Wisconsin.
The company also has several warehouses in South Dakota that replenish its locations on a weekly or biweekly basis. This ensures "the stores have products, models and brands that the customers are interested in," CEO Chuck Wolkow says.
Karl's TV also has a contract division that works with contractors and builders. "That's very, very active," Wolkow says.
The division sells appliances that are often used in multifamily homes or even larger projects. "That gets us volume for our appliance business," Karl says.
"Our capabilities allow us to deliver the product, install it and make sure it is working," Wolkow adds. "That's important to any contractor or property manager."
Taking Care
After six decades, Karl credits his company's success to his personal passion for the business. "If you're going to be a manager or start a business, you've got to love it, be excited about it and take care of your employees," he says.
"They'll take care of the customers and have a product that people want to buy," he says. "If you treat a customer right, they're going to buy from you because you've taken care of them."
That philosophy has earned Karl's TV repeat business, which comprises half of its sales. "That's what a dealer like us has to have to stay in business," Wolkow asserts. "We have to continue to have customers who do repeat business with us, and refer Karl's to their friends and co-workers."
These customers, he notes, often tell their friends that they were treated well at Karl's. "That's how a small business can expect to grow over a course of time – taking care of their customers every day," Wolkow says. "If you create a reputation of not do so – it will catch up with you."
Making it Happen
Karl's TV regularly adjusts to shifts in its industry, including those in the electronics market. "[It] is an interesting business, but you've got to be very cautious, because prices are not very stable," Karl warns.
The company has watched prices fluctuate monthly. "You can see it at stores like Best Buy, as their sales are going down," he says, noting that this lowers product prices. "There's not a lot you can do about it."
Karl's TV also copes with the challenge of finding the right people to staff its stores. "There's a lot of good, young people out there but you have to find them," Karl says.
The company not only needs proper technicians and salespeople, but those it can rely on to perform deliveries and warehousing services. "Sometimes, the job market [makes it] difficult to fill everything in a timely manner," Wolkow says. "But we make it happen."
Karl's TV manages this through both online and print advertisements. "We'll also post signs in our stores, if we have needs for any types of associate, whether it's service or delivery," he says.
However, one of the company's best sources of employees is its customer base, Wolkow notes. "They might know somebody who could do a good job for our company," he says.
Proudly Independent
Karl is satisfied with how Karl's TV has grown over the years. "I'm proud that the employees that work for us can make a good living for themselves and their families," he says.
"In this day and age, being an independent store and being financially sound is good," Karl says. "It must mean we're doing something right."
He praises his team of approximately 270 workers at Karl's TV, who all share a stake in its success through an ESOP. "I've given away half the company to the employees," Karl says. "I was fortunate to hire some good people that had the same ideas I had."
Many of those people, he adds, have stayed loyal to the firm. "We've got employees that have been with us 20 to 30 years," Karl says, noting that its longtime members include Wolkow and CFO Jerri Lynn Kenzy.
Karl also praises his daughter, Sandra Wernke, who manages human resources and acts as his assistant. "She covers for me when I'm not here," Karl says, noting that he has lessened his role at Karl's TV.
"I'm not retired, but sometimes I act like I am," he says, explaining that he is in the process of implementing a succession plan where he will turn over Karl's TV to its employees. "They run the company now, and I'm not in the day-to-day operations."
Karl predicts his company will grow, but at a modest rate. Karl's TV does not like to enter markets where independent retailers are thriving, but it does look for ones where they are close to closing their doors.
Many times, Karl's TV has acquired independent dealers who have financial difficulties or owners who are ready to retire. "We've been able to buy the store, and that store becomes part of our company," he says, noting that Karl's TV will retain members of the store team.
For the moment, "We're going to stay profitable with what we have," Karl predicts. "If the opportunities present themselves, we can certainly take a look at them."
Wolkow agrees. "Right now, we just want to be able to make sure all of the locations we currently have are operating properly and taking care of our customers," he says.
A Great Place
CEO Chuck Wolkow is a longtime veteran of Karl's TV. AUDIO. APPLIANCES. FURNITURE. "I joined in August of 1975," he recalls, noting that he wanted to enter the retail business and joined the company as a salesperson.
"It's a great place to work," he says. "Elmer [Karl] is running his company like a family. We're all very close and he allows the managers to run their stores like it's their own store."
He also praises Karl's focus on in-store services. "Every day when he goes into a store, the first place he goes is the service department," Wolkow says. "People appreciate the fact that if they buy something from somebody and they have an issue, they can have that someone take care of the problem."
Wolkow is proud of Karl's TV's longevity. "It seems like every day you see something about someone going out of business, having troubles or struggling," he says. "But we manage to keep growing, staying profitable and offering the services that the customers need and want in our markets.
"Someone like Karl's will always be needed, no matter where they're at," he asserts. "A small independent dealer … will always have an opportunity."
Strong Support
Karl's TV provides delivery and installation services locally, but its focus on its regions does not end there. "We're involved in all the communities," owner Elmer Karl says, noting that the company takes part in fundraisers and other local activities.
This can be an advantage for any independent retailer, he notes. "You support the local community and a lot of those people will support you," he says.