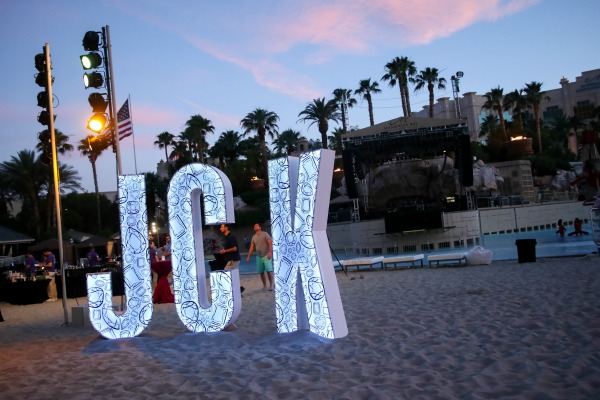 The event will feature more than 2,300 exhibitors from around the globe showcasing the latest on-trend collections and technology. By Bianca Herron
More than 23,000 retailers and industry professionals will gather this spring to attend JCK Las Vegas, the jewelry industry's leading annual trade event. Part of the Reed Jewelry Group division of Reed Exhibitions, JCK Las Vegas will be held at the Mandalay Bay Resort and Casino in Las Vegas June 5 – 8.
The event will feature more than 2,300 exhibiting vendors from around the globe, showcasing finished jewelry, timepieces, loose gemstones, equipment, supplies, security and business solutions. Attendees will have the opportunity to view thousands of new and trendy styles, collections and technology.
Each year, JCK Las Vegas aims to bring together the world's most influential industry professionals in an upbeat environment for order writing, educational sessions and networking.
One major highlight of the show is its end-of-show celebratory event called JCK Rocks the Bowl! It takes place at Brooklyn Bowl Las Vegas, the hottest venue on The Strip, on Wednesday evening.
JCK Talks, a complimentary education program for attendees, is also a notable highlight of the show. The program kicks off Sunday, June 4 – one day before the JCK Las Vegas show floor opens – and continues on Monday, June 5, with a spotlight on JCK's industry partners called JCK Talks – Afternoon with the Associations.
The event aims to provide retailers with the tools, insights and information necessary to succeed in the current retail climate. Sessions of the event will touch on topics like "Keys to Attracting Customers," "How to Deal with Key Issues Facing All Jewelry Retailers" and "Understanding Shifts in the Luxury Market."
In addition, JCK Las Vegas has partnered with the Jewelers Security Alliance — a nonprofit trade association with nearly 20,000 members — to launch a new neighborhood pavilion dedicated to security solutions.
This new destination on the JCK Las Vegas show floor will feature tailored security solution providers whose products and services are designed to keep jewelry businesses safe. Participating vendors will feature physical security solutions, IT security solutions, payment processing, shipping solutions, fraud protection, private security, system integrators, and RFID and tracking technology.
According to JCK Industry Vice President Katie Dominesey, security remains a top priority for both large and small jewelry businesses that are challenged to keep up with new technology that will reduce risks within their businesses. "As the jewelry industry's premier marketplace, JCK Las Vegas is a natural fit for introducing a dedicated destination on the show floor where vendors can provide critical solutions to keeping retail businesses thriving in today's world," Dominesey said in a statement.
Jewelers Security Alliance is also "excited" about its new partnership with the jewelry trade event, President John Kennedy added.
"Security is a vital issue for jewelers, and buyers at the show will now have a focused opportunity to learn about and order the security protection all jewelers need," he said. "For exhibitors, the partnership provides a great opportunity to reach a huge, fresh audience of jewelry retailers and manufacturers who do not attend security trade shows, but have extensive security needs.
"JCK Las Vegas is by far the largest and most important jewelry trade show in the U.S., and this show is the perfect place to bring together buyers and exhibitors which will help to make the jewelry industry safer," he concluded.