Keep Your Front Line Staff Smiling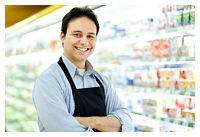 June 24, 2014 – Front line staff are the face of your company. Whether you are a large retailer or small business, your employees will leave a lasting impression on each and every customer. That impression will determine whether or not that customer comes back and/or refers others. Keeping your front line staff positive and happy increases the likelihood staff will enjoy their jobs and go above and beyond to ensure customer satisfaction.
There are so many aspects to owning and managing a retail establishment, employees sometimes unintentionally fall by the wayside. When staff do not feel valued or appreciated (either actual or perceived) the likelihood their discontent will spill over into their customer interactions increases significantly. Spending time on staff development is key. This article will discuss some ideas to help keep your front line staff smiling.