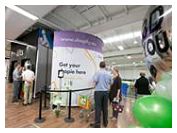 June 27, 2014 – Earlier this week, Artec Group and Asda announced their partnership as Asda becomes the first supermarket to bring a new cutting edge 3-D printing technology to shoppers in the UK with the installation of Artec's Shapify Booth. It is being billed as the world's first high speed 3-D full body scanner in the Trafford Park store. The scanning booth will allow thousands of customers to create a 3-D miniature replica of themselves, which is being called a "shapie."
The Artec scanning booth, equipped with wide-view, high-resolution 3-D scanners and a rotation rig, takes just 12 seconds to scan a person. The Artec algorithms automatically fuse 700 captured surfaces into a detailed printable file. This digital model is then sent to the Asda 3-D printing center to be made into an 8″ mini-statue in full color which can be collected from the store just one week later. Asda's unique 3-D printing technologies allows the processing of a huge volume of high quality figurines at a time.
"We've been working with Artec technology for a while now and we're delighted to be the first company in the world able to offer our customers this unique service," says Phil Stout, Asda Innovation Manager.
"Over the last five years, Artec has been providing 3-D technologies to professionals in industries from space and automotive to medical and movie special effects, but we have always been looking for the chance to do something for the public," says Artyom Yukhin, Artec Group President and CEO. "Asda's backing and second to none customer understanding allowed us to create high speed scanners which are fun and easy for people to use."