Kenneth Cole New York Launches New Limited Edition Watch Benefitting amfAR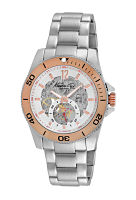 Jan. 29, 2013 – Kenneth Cole New York, through its licensee partner, the Geneva Watch Group, unveils the limited edition Powered by You watch, the newest style in its renowned automatic watch collection. The limited edition Powered by You watch is designed to inspire individuals to generate change in their global community. Through its partnership with Kenneth Cole New York and a continuation of both companies' long standing commitment to giving back, Geneva Watch Group will donate at least $25,000 from the sale of the watches to amfAR, the Foundation for AIDS Research.
Over 25 years ago, when publicly mentioning AIDS was still considered taboo, Kenneth Cole used his platform as a fashion designer to launch a series of provocative advertising campaigns that helped generate awareness and raise funds for research aimed at finding a cure.
In 2011, Cole partnered with amfAR and the MTV Staying Alive Foundation on the reinterpretation of the iconic AIDS ribbon and created a celebrity driven international PSA campaign, re-igniting a new wave of awareness about the disease with the millennial generation. Now in his 8th year as Chairman of amfAR, Cole furthers his dedication to amfAR, an organization that has eased the burden of millions around the world living with AIDS.
"This is the time to step up our investment in a cure for AIDS," says Kenneth Cole. "This new, limited edition Powered by You watch is intended to cultivate a call-to-action for today's generation to find a cure."