KiO (Keep it Organized) Storage Launches a New Shelving and Closet System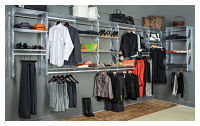 April 30, 2013 – KiO is billing itself as the newest, most innovative shelving product on the market today. It is made of a unique material new to the shelving and closet industry. Manufactured in the USA, KiO is super-strong though also lightweight making it easy to purchase, transport, and install. An eight-foot closet weighs under 40 lbs. and can be installed in less than an hour.
"The KiO system is a value-priced, versatile product that can be reconfigured for many different applications from closets to pantries, garages, bookcases, entertainment centers, and commercial applications. It is also eco-friendly and completely recyclable, reusable, and formaldehyde free," says Constance Artigues, KiO's founder.
KiO says it was created by an executive team of industry leaders and innovators with over 60 years combined experience in the storage industry, and it believes the product will move quickly to the top of its category.