KitchenAid Announces Two Million Stand Mixer Milestone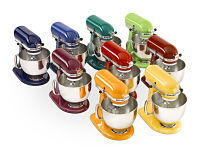 Dec. 12, 2012 – Since its introduction in 1919, the KitchenAid stand mixer has been praised by generations of chefs, showcased as a design icon in museum exhibits and touted in countless other ways as an essential culinary workhorse. But in 2012, KitchenAid is celebrating a milestone that few would have imagined back in the early 20th century: an annual production of two million stand mixers.
"This is by far the largest number we have ever produced in our Greenville, Ohio plant where every stand mixer sold around the world is built," notes David Elliott, general manager of KitchenAid small appliances. "Given the craftsmanship that goes into assembling each stand mixer, we're very proud to have the skilled work force and manufacturing process needed to fulfill increasing demand while maintaining the premium quality consumers expect from KitchenAid."
Thousands of stand mixers are produced every day in the Greenville plant in a process that includes everything from motor and wire whisk assembly to color application, packaging and distribution. In addition to its stand mixers and blenders, which have always been manufactured in the U.S., the brand recently moved the production of its hand mixers back to Greenville from China, where they had been previously manufactured.
Since the introduction of its stand mixer in 1919 and first dishwasher in 1949, KitchenAid has built on the legacy of these icons to create a complete line of products designed for cooks. Today, the KitchenAid brand offers virtually every essential for the well-equipped kitchen with a collection that includes everything from countertop appliances to cookware, ranges to refrigerators, and whisks to wine cellars. Cook for the Cure, the brand's partnership with Susan G. Komen for the Cure, is now in its eleventh year and has raised over $8 million to help find a cure for breast cancer.