Kmart and March of Dimes Celebrate Memorable Milestones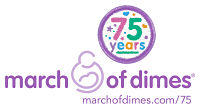 July 22, 2013 – As the March of Dimes celebrates 75 years of its ongoing work to help all babies get a healthy start in life, its No. 1 corporate supporter, Kmart, marks its 30-year commitment to maternal and infant health. This year, Kmart's campaign raised more than $7.6 million, bringing the company's 30-year total to nearly $114 million to support the March of Dimes work and the health of newborns across the United States.
Kmart has the distinction of being the March of Dimes longest corporate sponsor. For three decades, Kmart's management, associates and customers have supported March for Babies, the March of Dimes signature fundraiser. This year, Kmart built upon its dedication to improve children's health by also participating in the March of Dimes imbornto Mother's Day and Father's Day cause-marketing campaign. imbornto allowed consumers nationwide the opportunity to support the March of Dimes while shopping at Kmart stores, and other retail partners, for Mother's Day and Father's Day gift ideas.
"For more than three decades, supporting March of Dimes has been an integral part of Kmart's commitment to serve the communities and families where we operate," said Ron Boire, executive vice president, chief merchandising officer and president, Sears and Kmart Formats. "Kmart is proud to have such generous Shop Your Way members, customers and associates who know that their contributions have a direct impact in improving the lives of a generation of babies and the families that love them."
The funds raised by Kmart have benefited the March of Dimes by helping the organization:
Provide reliable and up-to-date information on healthy pregnancy and newborn care;
Advocate for better healthcare coverage for pregnant women and babies;
Fight for better newborn screening requirements in every state;
Help more moms get access to prenatal care.
"As our top sponsor, Kmart has proven, time and again, their willingness and unwavering dedication to help advance the critical work being done on behalf of newborns," says Dr. Jennifer L. House, president of the March of Dimes. "Their efforts have played a major role in the discovery of breakthroughs, like surfactant therapy for preemies, that have saved the lives of countless children."