LogicSource Releases OneMarket eProcurement 11.0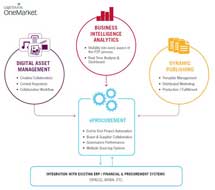 May 21, 2013 – LogicSource, a leading sourcing solutions firm, today announced the release of OneMarket eProcurement 11.0, an enhanced version of the core engine in its OneMarket Sourcing Solutions Suite. The new release significantly improves the speed and effectiveness of the "procure-to-payment" process associated with all print and related commodities and services, as well as other specified materials – including flexible and rigid packaging, fixtures, lighting, flooring, signage, and a variety of retail operations goods.
By enabling users to create catalogs of the standard items that they purchase regularly, OneMarket® eProcurement 11.0 allows for greater integration with other enterprise inventory management systems, and efficient buying pattern analysis and management. The product has also been redesigned to better describe and control complex job shipments, allowing for better management of data such as the address book and shipment dates.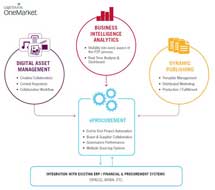 In addition to item catalog management and a fully redesigned shipping and destination management system, key features of OneMarket eProcurement 11.0 that increase efficiency and transparency for both client and supplier users include an unlimited number of kit configurations per job, refined cost allocation coding, and new 'save and notify' workflow. The latest version has Ariba P2P integration, historical jobs upload utility, and custom supplier award notifications.
"Companies need to manage catalogs of items that are stocked, fulfilled, and managed in their warehouses, coupled with a seamless reordering process. With this release, we made significant changes to Shipping, Cost Allocations and our API to give offer companies powerful tools to manage the lifecycle of reusable items in a fully integrated and streamlined procurement setting," said Craig Garno, Managing Director of OneMarket Operations for LogicSource. "Companies are continually being asked to do more with less, and we're confident that these enhancements will help them do so."
OneMarket is deployed as a cloud-based solution that results in a robust, commercially available technology with no infrastructure costs and integrates easily with Oracle, Ariba, and most standard relevant operational platforms.