Looney Labs Debuts Fall Line-Up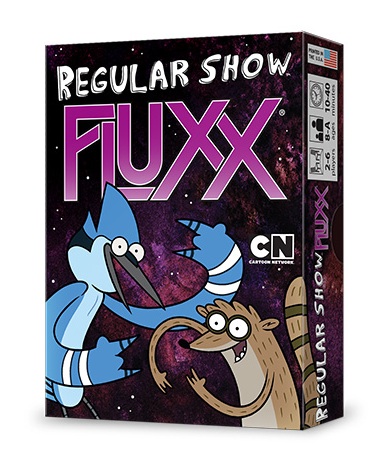 July 24, 2014 – Looney Labs is introducing a new assortment of tabletop games at Comic-Con International including new Fluxx games inspired by hit shows on Cartoon Network.
Regular Show Fluxx highlights the hit show's lead characters, a blue jay named Mordecai and a raccoon named Rigby, who are best friends working as groundskeepers at a local park. Created by JG Quintel, more than 150 Regular Show episodes have been created since the Emmy Award-winning series debuted on Cartoon Network in September 2010.
Cartoon Network Fluxx will feature a diverse line-up of fan-favorite characters from a variety of the network's hit original series including Adventure Time, The Amazing World of Gumball, Courage the Cowardly Dog, Dexter's Laboratory, Ed, Edd 'n Eddy, Johnny Bravo, The Powerpuff Girls and Samurai Jack.
Regular Show Fluxx and Cartoon Network Fluxx will be available this fall at retailers nationwide including Target and hobby, game and bookstores all over the country.