Say Hello to the Transformers Humble Bundle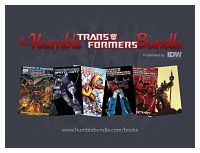 July 23, 2014 – Humble Bundle and award-winning publisher IDW Publishing, under license from Hasbro, are kicking off San Diego Comic-Con with a digital comic collection of epic proportions. Customers can pay what they want while also supporting a child-focused charity in the Transformers Humble Bundle presented by IDW.
Customers can name their price for Transformers Classics, Volumes 1-4, featuring a digital reincarnation of 48 issues from the original comics. Those who pay more than the average price will also receive Transformers: All Hail Megatron, Vol. 1-4; Transformers: Autocracy; and Transformers: Spotlight, Vol. 1. Customers who pay $15 or more will receive all of the above, plus Transformers: More Than Meets the Eye, Vol. 1 and 2 and Transformers: Robots in Disguise, Vol. 1 and 2, bringing a total of nearly 100 comic book issues to the bundle.
"The iconic Transformers brand is celebrating its 30th anniversary this year and can't think of a better way to celebrate than with this bundle offering. Whether a new reader who wants to get in on the epic Transformers adventure, or a long-time fan looking to round out their digital comic collection, this offering is the perfect combination of classic and current stories," said Michael Kelly, Hasbro's Director of Global Publishing.
"We're very happy to collaborate with Hasbro to offer this mega selection of Transformers comics," said Jeff Webber, IDW's VP of Digital Publishing. "This bundle highlights all the facets of IDW's Transformers line."
As with all Humble Bundles, customers can choose how their purchase dollars are allocated, between the comic creators, Humble Bundle, and the determined charity (the Hasbro Children's Fund).
The Transformers Humble Bundle runs for two weeks and ends Wednesday, August 6, 2014 at 11 a.m. Pacific time.