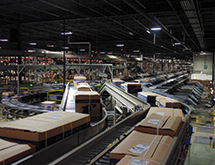 LTD Commodities has spent the past 50 years building its reputation as a top provider of unique merchandise at unbeatable prices. For the past five years, the company has upgraded its technology with the goal of improving customer experience and continuing its growth.
LTD Commodities began as a small mail-order business. Today, the family owned company has grown to become one of the country's premier catalog and online merchandisers. "Our merchandise is so unique and our prices are unbelievable," President and CEO Michael Hara says. "We have had focus groups where people say they love our company because they can't believe the value they get for their dollar. In fact, many said they can not resist the urge to shop with us because of all the new and exciting products we have to offer."
Based in Bannockburn, Ill., LTD Commodities sells home goods, apparel, toys, furniture and garden accents on its website, www.ltdcommodities.com, and in its catalog. The company's more than 400-page catalog is unique in that a full page is dedicated to each product. An in-house photography studio is used to capture nearly every product in an environment that helps illustrate not only its use, but its possibilities. "We show them what they are getting and help them envision how it could work for them," Hara adds. "We also stand behind everything we do with our 100 percent satisfaction guarantee and take care of our customers really well."
Dedicated Service
LTD Commodities holds an annual milestone anniversary luncheon that recognizes employees for long-term service. This year, LTD will celebrate 250 people who have been employed with the company for 15 years or more. "We are a very passionate company," Hara says. "You have to be passionate, hardworking and immersed in our business. I've done that for most of my life and much of our talented staff is the same way."
Associates on all levels within the organization stay with the company because of the way their contributions are celebrated. The company holds events throughout the year, such as monthly birthday parties, an annual Christmas party and an annual awards luncheon. The company also stresses the importance of training programs and promoting from within. "As we've grown we have continued to bring on a lot of new talent and we also make sure that we provide ways for long-term associates to keep up with current trends and technologies," Hara adds. "We nurture our associates and make sure they know how important they are to this company, and that we're committed to their career growth and advancement."
LTD Commodities has always put its customers and employees first, which is why it received the 2013 Torch Award for Marketplace Ethics, Category II, from the Better Business Bureau serving Chicago and Northern Illinois. "Companies receiving the Torch Award do business the right way," states Steve J. Bernas, president and CEO of the Better Business Bureau serving Chicago and Northern Illinois. "They know the importance of their customers, employees and other stakeholders to business success."
Solid Investments
Staying on top of technology advancements is key to staying in business today, Hara explains. The company uses SAP software as its foundation for enterprise-wide data management, providing an integrated system for supply chain management, order processing and customer relationship management. About four years ago, LTD Commodities purchased ATG Web Commerce software to complement SAP, and this year it will be installing the JDA Warehouse Management System for its warehouse operations.
"All three are major platforms we constantly utilize in daily operations," Hara says. "JDA Warehouse Management System is brand-new to us and we are upgrading our web platform to ATG's latest, most powerful version this year. SAP is constantly upgraded and is a state-of-the-art platform." SAP provides a flexible foundation that integrates well with other technologies to enrich the customer experience. ATG improves the speed and functionality of LTD Commodities' website and JDA Warehouse Management System will speed up order processing and warehouse operations to get orders shipped faster.
Increasing the speed of shipments is beneficial to LTD Commodities, but recently shipping has become more expensive. "Our major challenge is the increase in the cost of shipping by FedEx, UPS and USPS," Hara explains. "The United States Postal Service raised the cost to ship catalogs nearly six percent this year, which is more than three times higher than CPI."
The problem with growing shipping costs is that in order to stay competitive in the marketplace, it is necessary to run shipping promotions, on top of the company's already low prices. To overcome this challenge, LTD Commodities is looking to increase its customer loyalty, add to its mailing list and continue promoting its website. "I don't ever see the catalog going away," Hara says. "I see a challenge to control costs, but I don't see it going away. Our customers tell us the catalog is one of the most compelling in the marketplace and that once they pick it up, they can't put it down. It's part of what makes shopping with us so exciting."
The company plans to send out a "tremendous" amount of catalogs every year, Hara says. LTD Commodities adds new merchandise and offers daily deals to entice new customers.
"For the past few years we have been building our platforms needed to further build our business," he adds. "Now that we've strengthened our foundation we can focus on growth and expanding our market. By continuing to provide unique products at the absolute best prices around, we're ready to bring new customers to our catalog and website."