Lucky Charms Hits the Big 5-0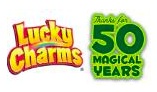 Jan. 27, 2014 – Lucky Charms cereal is commemorating 50 years of "magically delicious fun" with a 50-day celebration thanking fans young and old for keeping the magic alive all these years. For generations, Lucky Charms cereal has become known for frosted toasted oats and marshmallow charms, along with the iconic Lucky the leprechaun.
Last night, Lucky's celebration of his fans kicked off during music's biggest award night of the year with a tribute ad featuring pop vocal sensation Pentatonix singing his famous magically delicious jingle. The festivities will culminate on the luckiest day of the year – and Lucky's 50th birthday – St. Patrick's Day (March 17). Throughout the 50-day celebration, surprises will pop-up in unexpected places across the country and online for everyone to get in on the fun. Visit LuckyWasHere.com for a daily dose of delight, and beginning March 4, 2014, to play the "Where's Lucky?" game for the chance to win exclusive limited edition prizes. Fans can also follow #LuckyWasHere to see where Lucky and his charms pop-up over the next 50 days.
"Lucky Charms fans have always been the inspiration for keeping the magic alive and staying young at heart," said Nicci Trovinger, associate marketing manager for Lucky Charms. "Lucky Charms cereal is part of our pop culture and we want to thank fans everywhere by giving back with special surprises and fun for everyone, just as Lucky the Leprechaun has for the past 50 years."
Partnerships, Fun and Limited Edition "Charms"
To help celebrate this milestone, Lucky has partnered with some of America's favorites to join the party:
Pop vocal sensation Pentatonix created a video to share with fans, reimagining the classic Lucky Charms litany in iconic musical styles tracing the past five decades.

Buddy Valastro

, star of the TLC series CAKE BOSS and BAKERY BOSS, is cooking up special treats to surprise and delight

New York

area fans with Lucky Charms cupcakes that will be sold exclusively in his four

New Jersey

-based Carlo's Bakery locations.
Customized Casetagram phone cases featuring whimsical Lucky Charms images will be available through a special consumer design contest. The top five fan designs will be sold exclusively through the Casetagram website.
Lucky himself is planning to take a trip down memory lane sharing vintage commercials, marshmallow charms and giveaways throughout the celebration.
Limited edition 50th Anniversary

St. Patrick's Day

-themed cereal with all green clover marshmallows, will be available at grocery stores nationwide beginning February, while supplies last.
"Where's Lucky?" Instant Win Game for Limited Edition Lucky Swag:
The "Where's Lucky?" game is an interactive online experience for Lucky Charms fans 18 and older to play for a chance to win one of his magical prizes, including:
Magically cool Custom Designed Lucky Charms Monster DNA Headphones – perfect for rockin' out to the new Lucky Charms anthem or your favorite tunes.
Charming Bracelets – inspired by everyone's favorite Lucky Charms shapes – bundles of pot of gold, four leaf clover, and special green charms.
Custom Designed Lucky Charms Hats – tip your cap to another 50 years of Lucky Charms fun with cool snap-back styled lids featuring Lucky colors and images.
Limited Edition Lucky Charms High-Top Sneakers – green kicks with iconic Lucky Charms laces and accessories.
Exclusive Lucky Charms Pro-Style Skateboard – limited edition decks are dazzled with a vintage-style Lucky the Leprechaun.
One-of-a-kind Charms Inspired Casetagram Cases – featuring five designs from Lucky Charms fans.
The "Where's Lucky?" game officially starts March 4, 2014 with the premise that Lucky has left a trail of magical charms and surprises behind, putting his #LuckyWasHere mark everywhere he goes. Participants will search for Lucky by flipping over tiles on an interactive map. Finding Lucky equates to an instant win for one of the limited edition prizes. Each individual can play up to 12 times a day, win once per day and win five times during the game period (March 4 – 17, 2014).
Visit LuckyWasHere.com for more information and magical musings and special offers, and to play the game.