M-Edge Launches New Case Styles for iPhone 5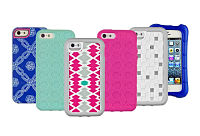 Dec. 18, 2012 – M-Edge, a designer of tablet, smartphone, and e-reader accessories, today launched an expanded line of cases for iPhone 5. M-Edge products are currently available at medgestore.com as well as at retailers nationwide including Best Buy, Target, Staples and various wireless carriers. ctive accessories for e-readers. This is the latest expansion to M-Edge's lines of on-trend, innovative and high-quality accessories for devices on the market, such as iPad, iPhone, Kindle and Nook.
Among the new products are the Maverick 2-in-1 Case, which comes with a polycarbonate snap-on shell available in bright patterns, 3D textures, or sophisticated fabrics like carbon fiber as well as a removable shock-absorbent silicone bumper. The Tango Dual Layer Case is made with a tough polycarbonate outer shell that's printed with trendy patterns and an inner silicone layer. The Alter Ego Skin comes in vibrant and glow-in-the-dark colors and is made from durable silicone, while the SuperShell Case is drop-proof with shock-absorbent protection.
"As we continue to grow our offerings into smartphones and laptops, we are focusing heavily on fashion and protection," M-Edge CEO Patrick Mish says. "Our lineup for these new devices continues to offer a quality product in a wide variety of colors and styles for the customer that wants more than basic black."