As the director of business development for M&M'S Retail, a division of Mars Incorporated, he knows also that promotional products are a $24 billion industry that's thriving because businesses are looking for new and unique ways to advertise.
With that in mind, Capizzi is leading his division's initiative to saturate that market – heightening the company's presence in the B2B arena.
"M&M'S® is one of the top candy brands in the world," Capizzi says. "Our ability to customize our product is a clear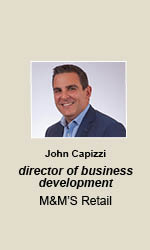 point of difference and we're finding that a lot of businesses love to be associated with us because we are a well-known quality brand."
M&M'S Retail division focuses on delivering some of the best experiences of the M&M'S® brand through three market segments: M&M'S World Stores, MY M&M'S Digital business and B2B.
Up to this point, businesses would go to mymms.com if they wanted their logo or message on M&M'S® candies. "However, in an effort to extend our reach we are now partnering with B2B marketing hubs, such as ASI and SAGE, where promotional distributors go to see what products are available for them to offer to their customers," Capizzi says. "This is a deeper entry into B2B.
Advertising Specialty Institute (ASI) and SAGE are among the promotional product industry's largest organizations offering media, technology and marketing solutions. Mars started promoting its products on these sites about six months ago.
"The activity that has come through those sites has greatly increased interest in our brand," Capizzi says. "We've been doing B2B on MY M&M'S® website for over 15 years but now we're being more purposeful about setting up ad programs on those two big sites. We are reaching more B2B promotion distributors through these partnerships who in turn are reaching more businesses."
Custom Candy
Corporate B2B leverages the unique capabilities of Mars' MY M&M'S® Print Shop to bring customized candies to businesses. Mars can print their logos, slogans, messages and photos directly on the candies.
"It allows our business-minded customers to customize the world's No. 1 candy," Capizzi says. "We provide the customer with unique experiences to help them differentiate and delight their customers."
To address the significant demand for its products, M&M'S Retail division has combined four different "business activations." Corporate B2B is one. The others are Licensing, Mass Customization and its Colorworks program.
Licensing brings M&M'S® merchandise and gift items to market. It is a major component of how M&M'S Retail promotes loyalty to the brand with categories that include novelty candy, gifting and apparel. The Colorworks program brings a piece of some of the world's largest chocolate walls found in M&M'S stores into specialty stores throughout the country.
"The stores purchase the wall unit and we have a specialty supply of single-color M&M'S® in 21 colors," Capizzi says. "It's one of the few ways to buy single color M&M's and is also a consumer's initial entry point to M&M'S customization experience."
Mass customization is another method for bringing unique offerings across retail channels. For example, a supermarket or specialty store can order M&M'S® in select colors for special occasions or during the holidays – like pink and white for Valentine's Day and red and green for Christmas.
"Customization allows us to give our customers exclusives to help them differentiate themselves from their competition," Capizzi says. "It's been our fastest growing business. Every customer in retail will tell you that their goal is to grow and differentiate and the programs we run help them with that goal."
For example, Mars' state-of-the-art candy printer has the capability to print photos or images on the candy. The candy can be placed in specialty packaging. Blends of different colors? No problem.
Party City, a specialty retailer, ordered more than 10,000 pounds of M&M'S® with unicorn designs on them in a blend of colors. The retailer plans to launch the "unicorn blend" this spring.
"The hottest things right now are unicorns and mermaids," Capizzi says. "As new trends emerge we stand ready to make it happen. We get those requests and have our design team come up with designs. We'll design a package around it."
Mars can customize M&M'S® for seasons, themes and even sports teams. It has licenses with the NFL, NBA and baseball teams. "We started mass customizing about three years ago," Capizzi says. "Now we are nationwide with the program.
SIDEBAR:
Guiding Principles
Mars Incorporated's internal culture is built around five principles that the company takes very seriously. They are the foundation of its culture and a guiding force. Quality. Responsibility. Mutuality. Efficiency. Freedom.
"We really live by them, we talk about them every day and use them when determining business solutions," Capizzi says. "They serve as a compass to help guide our business decisions and unite us across geographies, languages, cultures and generations. The results is stronger relationships with everyone – our customers, consumers, business partners, communities and each other."