M&M'S To Prove Moments Are 'Better With M'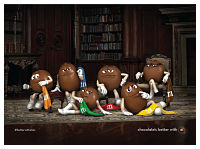 Jan. 14, 2013 – Today Mars Chocolate North America introduced M&M'S Brand's new integrated marketing campaign called 'Better With M,' which includes a new 30 second television commercial that will air during the first quarter of Super Bowl XLVII. In addition to the Super Bowl ad, which was created by BBDO New York, highlights of the year-long 'Better With M' campaign include multiple English and Spanish television, print and digital ads, in-store displays, consumer promotions and multiple social initiatives focused on Facebook and the hashtag, #betterwithmms. The first television ad from the new campaign – starring Ms. Brown – will being airing today.
"'Better With M' showcases how M&M'S irresistible chocolate makes moments more fun and delicious," said Roy Benin, Chief Consumer Officer, Mars Chocolate North America. "The 'Better With M' story is delivered through our colorful spokescandies, whose irresistible chocolate always makes moments even better – be they watching the Super Bowl, baking cookies, gathering the family together for a movie or even tailgating."
A cornerstone of the campaign is a new cause-related marketing effort designed to make 'America Better With M' by funding the construction of Habitat for Humanity homes across the nation. As part of the initiative, M&M'S is also encouraging, as well as incentivizing fans to help 'M-Prove America' by volunteering at Habitat job sites nationwide.