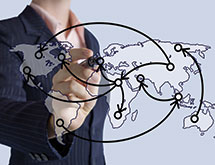 Global expansion and omni-channel are necessary to business growth, but if not done correctly, retailers often lose profits from high operational costs in areas such as the supply chain and supplier management. These costs often stem from lack of visibility in both the physical and financial supply chain. The latter has created such inefficiencies in operating models that the procure-to-pay process (P2P) has become a hot topic for retailers to master to mitigate financial risk and bring their costs down.
In fact, the entire P2P process was explored further in a survey of 83 retailers conducted by Edgell Knowledge Network (EKN) in June 2014, where it was revealed that a shocking 51 percent of retailers do not use integrated processes or systems when managing purchase orders, buying processes, trade documents, finance options and payment settlements in the supply chain. This article examines the gaps in the modern P2P process and ways to overcome them.
Unified Processes
P2P is crucial in gaining financial and procurement visibility, efficiency, cost savings, and control. Here are some examples of key benefits:
•Pre-booking factory capacities at supplier sites prior to placing the final order;
•Visibility toward availability of raw materials at factories;
•Tracking of purchase orders at all times, invoicing, related trade/logistics documentation;
•Transaction data collaboration, tax, duties and levies, and payment settlement, among other process collaboration areas.
According to EKN, 40 percent of companies cited their single biggest business challenge as the lack of a unified purchase order view linking the various points of interactions and stakeholders in the supply chain. Retailers work with thousands of business partners, including suppliers, factories and third party logistics providers so there needs to be a simple and comprehensive process in place to ensure P2P efficiency.
Diversification in product volume has created complexity in the supply chain, which requires even more engagement between suppliers and buyers. A lack of a unified process will result in purchase order inaccuracies, mismatched invoices, and other errors from playing the 'telephone game' with disparate data getting passed along without real-time information. Every order change increases the total cost of goods and squeezes the supply chain.
Enabling the Ecosystem
If there's one thing retailers have learned in recent years, it's this: what happens in your supply chain is your responsibility. The health of trading partners in the supply network has a direct impact on the quality, cost and speed of goods as they move through the production lifecycle. For retailers this means becoming a better partner with suppliers.
Retailers can start by enabling their global eco-systems with consistent standards, repeatable processes and a low total cost of ownership for increased P2P efficacy and integrated supply chain visibility. In EKN's report, the top three metrics delivering maximum increase in year-over-year performance were: contract compliance, percent of on time paid invoices, and vendor satisfaction. Automating the P2P process opens the door to the following benefits:
•Immediate creation and delivery of orders, invoices and other documents electronically;
•Collaboration, negotiation, and confirmation of key order terms across entire spend;
•Configurable and automated document checking, payment decision and execution;
•Automated deductions creation and management;
•Customizable, multi-level approval workflow;
•Electronically managed invoice discount programs.
Retailers should focus on key processes like procurement plans leveraging P2P in order to achieve maximum ROI. They should also incorporate a 'record to report' model tracking every system modification, and monitor order to cash cycle times to evaluate operation and financial health between supply chain partners and retailers.
Top P2P Trends
Recently, two places that retailers have focused streamlining P2P processes are vendor payments and invoicing/document management. Here are the top three trends for creating a seamless vendor payments process:
1.Increase payments through electronic funds transfer, reducing cycle time and errors.
2.Optimize payment terms for all vendors/partners.
3.Create a touchless environment for processing invoices that manages by exception.
Almost all retailers have expanded distribution channels; however, retailers are challenged by diversifying their operations while still making a profit. So how do retailers create efficient business models that allow them to thrive in today's environment? Creating a fully visible and unified buying cycle that includes all partners from end-to-end buying cycles is the key. Having one clear picture of a unified buying cycle will create a path to a risk-free supply chain. O
Leela Rao-Kataria is retail marketing manager at GT Nexus. This article originally appeared on the Retail Merchandiser blog. Check it out at blog.retail-merchandiser.com.