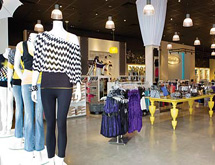 What lights up Ken Mandelbaum, chairman, CEO, and principal of clothing brand Mandee, is creating products that help people flourish. Although this might not be the philosophical approach of many clothiers, as a member of the third generation of the Mandelbaum family to run Mandee, which operates under the umbrella of Big M, Inc., going at the business without this personal philosophy is not an option.
"There's a privilege in being in business today where you can take a stand for something that's important, like who you're going to be in the world for yourself and for other people," he said. "It's not just about making money. It can be, but for us it's not."
The Mandee chain of stores caters to the trendy woman. The brand's core customer base ranges from age 13 to 25, but Mandelbaum is quick to point out the company does not focus on age; it focuses on fit.
All Mandee clothes are junior cut, which is smaller in the hips and waist. The brand's tops are cut young and trendy and fashioned in a similar style. Every product in Mandee stores, which can be found between Florida and Connecticut and as far west as Chicago, is designed to be coordinated with a focus on the core customer and her interests.
"We give customers a wide range of well-thought-out products so she knows when she is buying it in our stores, she is buying the right product," said Mandelbaum. From earrings, lingerie, and eveningwear to casual clothing and shoes, products in the approximately 7,000-square-foot stores are designed to keep up with the fast-changing fashions inherent to a hip and trendy audience.
Customer connections
The very thing Mandee prides itself on is also its biggest challenge: keeping up with a trendy target audience. The company stays in touch through normal channels, such as social networks Twitter, Facebook, and MySpace; customer reviews; and in-store conversations.
"The most important thing is understanding our customers' interests and offering her a venue where when she comes to our shop, she leaves thrilled with her buy," said Mandelbaum. What that means to Mandelbaum and his team is that every interaction, from the time spent with Mandee employees to viewing the merchandise, is tailored as though it was meant just for her.
For more than 60 years, the Mandelbaum family has focused on understanding what its customers want and are interested in. For the Mandee brand, this translates into merchandising coordination that not only respects the customers' time, but also illustrates her taste. "We want our customer to look in the store and say, 'I love this and the way it's coordinated,'" said Mandelbaum. "We help her make selections that facilitate her style intent."
The company takes connecting with its customers one step further by polling them on what social issues matter most. It then researches local nonprofits and charities within those communities and contributes on behalf of its consumers.
Mandee also does runway shows, bringing in customers who want to get into modeling and teaching them how to walk a catwalk and model outfits. When photo shoots are involved, the company often uses the results in its media releases. The goal of these interactions, said Mandelbaum, is to create the kind of relationships with customers that go beyond what's typical.
"We want to create the kind of relationship with our customer where we get to know what her needs are and she feels as though we're a resource she can count on," he said.
Stand and deliver
Always looking for ways to innovate, the Mandelbaum family has taken its customer coordination efforts one step further in a rebranding campaign. After spending time talking with its customers about the perfect in-store experience, the company set forth a plan to develop a store befitting the taste of a Mandee customer.
To start, in the fitting rooms of the Clifton store, the company installed large makeup mirrors with lighting that makes the shopper look the way she would in real life rather than under the glare of fluorescent lights, as is typical in most retail locations. There are seats outside the fitting rooms for friends who are waiting and offering opinions on outfits.
"We want to encourage friends to come with our customers, so the seats are comfortable and give enough room for people to work on their computers or talk on their cell phones while waiting for someone," said Mandelbaum.
The wall behind the checkout stations changes color, and columns throughout the store are wrapped in white fabric that also changes color. The in-store lighting matches the overall vibrant mood that is supplemented by a rocking soundtrack and videos that get customers' hips moving the moment they step in the store.
With the success of the first rebranded store, the company plans to open its second in a shopping center in Chicago. A few of the current Mandee locations will be remodeled, and several new stores with the new look and feel are in the works.
Mandelbaum said the company's ability to continue growing comes down to its private company standing. Without the pressure to grow the top line and the bottom line for the sake of stock prices, he and his team are able to spend money on infrastructure and existing stores when it makes sense and open new stores when it's more suitable.
"Right now, there are big opportunities to grow and open up new stores because of what's happened in the retail business over the last year," Mandelbaum said. "Each year stands on its own, depending on how we view the current conditions."