Mara Roszak Joins Forces with L'Oreal Paris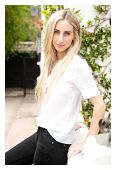 Jan. 9, 2014 – The global beauty brand L'Oreal Paris has announced the addition of renowned celebrity hairstylist Mara Roszak to the brand's impressive roster of experts. Known for creating some of the most talked-about red carpet looks and coined a "rising star" of Hollywood hair, Mara will lend her expertise for product development, content creation, consumer education and creating trendsetting hairstyles for L'Oreal Paris spokespeople.
Only 27 years old, Mara has built an impressive client list featuring some of Hollywood's best, including Emma Stone, Lily Collins, Mila Kunis, Zoe Saldana and Kat Dennings. Her roster of clients is the marker to the number of publications attached to her name as well. From top fashion and beauty magazines both in the U.S. and abroad, Mara has mastered manes cover to cover.
"It is with great enthusiasm that we welcome Mara to the L'Oreal Paris family," said Karen T. Fondu, President, L'Oreal Paris. "Not only is she immensely talented, creative and a trend-setter on and off the red carpet, but her passion and extremely likeable personality help inspire both her celebrity clients and women everywhere to look and feel their best. She truly embodies the spirit of our brand philosophy, 'Because You're Worth It.'"
"I feel so lucky to truly love my job. Working with women to help them be their most confident selves is the most satisfying part of what I do," says Roszak. "I have long admired L'Oreal Paris' dedication to helping every woman embrace her unique beauty and couldn't be more thrilled to now be part of that commitment. I am excited to work with the brand to provide women with the most innovative, advanced and accessible haircare products and insider knowledge."