When McCall Farms was established, it started with a 2,000-acre farm in Effingham, S.C., primarily focused on growing cotton. However, the company continued to grow and evolve throughout its history, and now takes pride in its extensive canning and freezing operation dedicated to southern vegetables. McCall Farms has been in the Swink family since its inception, and even with more than 1,000 employees, the company maintains a family atmosphere because of the dedication of its workers.
"Our family works well together and we intend to keep it in the family with our next generations," Co-President and owner Woody Swink explains. "But this business is far more than just our family – we have 1,000 employees who are incredibly good people. We are very blessed to have who we have, which is a lot of family workers – husbands and wives, and multiple generations of families."
McCall Farms has grown over the years through its dedication to quality and safety, while also acquiring many of the best brands in the country. It sells primarily to retail and foodservice customers, but McCall Farms also has a large business in supplying convenience stores. The company's line up of brands includes:
Glory Foods
Margaret Holmes
Peanut Patch Boiled Peanuts
Bruce's Yams
Allens
Allens Popeye
Veg-All
Princella
"Our canning and freezing business focuses on Southern vegetables, but our convenience store business is all about boiled peanuts," Swink says. "We serve 16,000 convenience stores with boiled peanuts, and that is growing in terms of same-store sales and adding new stores. We offer original and Cajun-flavored boiled peanuts, and they are self-serve, served hot in kettles in the store.
"With our other products, we sell to retail stores nationally," he continues. "We have Bruce's Yams, which is the No. 1 brand of sweet potatoes in the country, as well as Glory – the No. 1 southern vegetable brand – and Margaret Holmes, which is the No. 2 southern vegetable brand. Allens Popeye is the leading canned spinach brand, and Peanut Patch is the No. 1 boiled peanut in a can."
For its foodservice arm of the business, McCall Farms serves convenience stores and restaurants with a range of vegetables, such as sweet potatoes, black-eyed peas, green beans and hominy. "We are looking to grow this area of the business, and we are adding things like seasoned green beans, Italian beans and baked beans," Swink notes.
Investing in Technology
McCall Farms' operations are extensive to keep up with demand for its brands. The company has a number of canning lines, a large freezer facility, warehouses for distribution, and last year it invested $35 million to expand its operations in Florence County, S.C., creating 150 new jobs for the area. Additionally, McCall Farms stays true to its name by growing its products on 2,000 acres of family farmland in Effingham, S.C., as well as 25,000 more acres contracted throughout South Carolina, North Carolina, Georgia and Florida.
One of the company's most recent investments was a hydrostatic cooker. "This is the most efficient and high-quality cooker in the canning business, and we put it into operation on September first," Swink says. "We also have a new green been line, which is the fastest and most efficient line in the South. Our goal is to continue to improve our speed from our new state-of-the-art color sorters and optics sorters. We invest in technology every year to make sure we have the best machines."
However, this is not just investment simply for the sake of growth. McCall Farms remains dedicated to quality in all it does, and it uses continuous improvement to ensure quality and safety throughout its operation.
"Safety is No. 1 for us and quality is right there with it," Swink says. "It starts in the field, and we've selected the best and leading growers in the South and East Coast. We select fields with the best soil and have high standards for irrigation to ensure the best quality and most nutritious crops. All of our produce is harvested and in the can within 12 hours, which greatly helps the nutrition and quality of our products. We also have state-of-the-art optics, x-rays and metal detection technology to keep our products clean and safe."
Ongoing Authenticity
The Allens, Veg-all, Popeye and Princella are McCall Farms' newest brands, having acquired them last year from the Sager Creek Vegetable Company, an arm of Del Monte. They fit in with McCall Farm's dedication to high-quality, nationally distributed retail and foodservice brands. The company continues to find ways to serve customers with new products, using its years of experience to know what its base prefers.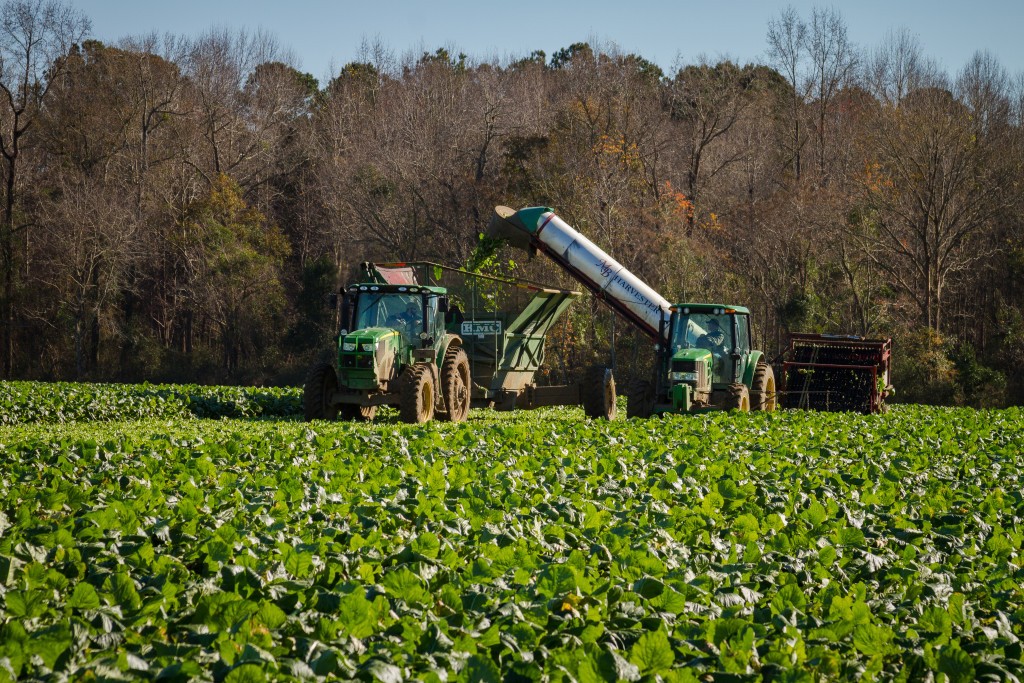 "Right now, customers are looking for non-GMO products, and we are proud that all of our products are non-GMO," Swink explains. "Consumers also don't want preservatives, and none of our products have preservatives, and no artificial flavors or colors. We simply offer consistently good taste, vegetables seasoned to the liking of the Southern vegetable consumer. We offer consistent, convenient products – all of our products are heat and eat."
McCall Farms studies trends and conducts focus groups to get a full understanding of what consumers enjoy, which has led to its development of squash and onions, as well as a combination of tomatoes, okra, corn and garlic with spices. "Our products are absolutely delicious and they are the reason why we are the No. 1 brands in our category. We are always looking at new products, new blends to put in a can and different packaging, as well. We have a great R&D team who are constantly looking at what's next, how to make products more convenient, better tasting and more nutritious."
With this dedication to quality and innovation in its category, McCall Farms has plans to grow throughout its retail, foodservice and convenience store markets. Swink notes that the company has the team in place who will ensure its ongoing growth and development.
"Our team of people is the best," he stresses. "I never could have imagined we would this strong of a group of people that make this company go around. They are loyal, passionate and really believe in what they are doing. We are fortunate to be located where we are to be able to get so many quality employees.
"We are distinguished by our authenticity in southern vegetables," he adds. "We know how our consumers want them and we deliver on that with the seasonings we put in there. The authenticity of our products, our brands and our team really is a big differentiator in our market and we are proud of all of that."