Megan Hilty Joins John Frieda Sheer Blonde Hair Care To Kick Off Blonde Appreciation Month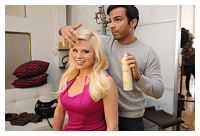 June 3, 2013 – The John Frieda Sheer Blonde team has appointed June as Blonde Appreciation Month, calling it a time to celebrate what sets blondes apart and equip them with the expert care they need to preserve their signature shade. To spread the word about Blonde Appreciation Month and ensure that blondes everywhere can preserve their salon-fresh blonde, John Frieda Hair Care turned to modern blonde icon Megan Hilty.
"Being a blonde is a big part of who I am," reveals Hilty. "I feel my best when my blonde is at its brightest. As blondes, we'll do whatever it takes to preserve our color. I partnered with the Sheer Blonde brand to make sure that all the other blondes out there have the care they need to preserve their shade, during Blonde Appreciation Month and beyond."
Megan is joining forces with John Frieda Sheer Blonde Hair Care to enlist blondes everywhere to share their unique vision of blonde with the brand, whether it's a perfect beach sunrise or a buttery yellow daffodil. Photo submissions uploaded on blondemonth.com will be selected to become part of an "everlasting" artwork installation — a monument to blondes that will live on long past Blonde Appreciation Month to showcase the nation's collection vision of what it means to be blonde. Megan will personally unveil the art installation at TK gallery on June 27, showing the world what blonde looks like.