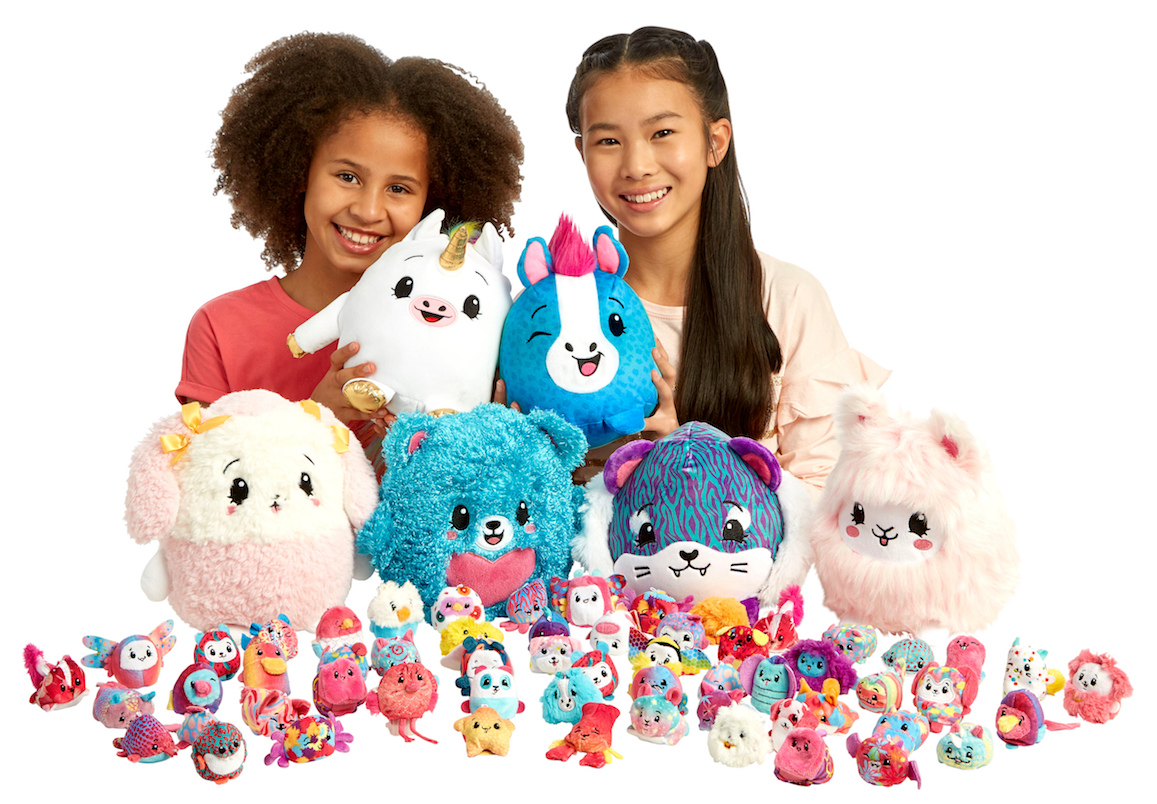 Moose Toys' brands are a worldwide phenomenon because of the amazement they bring children,
and the company continues to find innovative ways to bring its creations to the market.
By Staci Davidson, Kighthouse Media
In addition to its highly creative products, Moose Toys is known for winning awards and disrupting the toy market with its creations. And with good reason – by focusing on "the business of making children happy," Moose Toys leads in categories such as collectables, craft, dolls, games and youth electronics, with brands that include: Shopkins, Little Live Pets, Beados, Happy Places, The Grossery Gang, The Trash Pack and Mighty Beanz.
Retail Merchandiser recently spoke to Moose Toys' CMO Ronnie Frankowski about the company's worldwide success, how its creativity evolves and the partnerships that are bringing its brands to more markets.
Retail Merchandiser: Because your business is to "make children happy," how does that guide Moose Toys' brand development?
Ronnie Frankowski: It is in our DNA! We are lucky that we have an incredibly creative team who are consistently brainstorming and researching new product ideas. The best ideas might come when they are meeting in our Treehouse, picking lunch from our veggie patch, or when they are travelling all over the world getting inspiration.
We are like a bunch of big kids at Moose, so we focus on what is going to make kids happy though the whole development process. We recently had five of our toys included on Walmart's top 20 toys as chosen by kids list:
Pikmi Pops Giant Flips
Treasure X Adventure Pack
Little Live Pets : Rollie My Kissing Puppy
Really Rad Robots MiBro
Little Live Pets : Wrapples
So we feel like we are achieving our mission.
RM: How did Treasure X come about? Why do you think unboxing has become such a major trend for children?
RF: It has become a huge trend thanks mainly to YouTube. The surprise and delight that children get when unboxing a new toy is like nothing else and the videos that have been created capturing this moment is what kick started the movement.
The toys that were inspired by this trend, such as the original blind bag Shopkins and more recently Pikmi Pops have been hugely successful, so much so that now the space is full of similar competing products.
The key to success in the category is continued innovation and our team of creatives are always exploring multiple paths to deliver magic.
This is how Treasure X came about. Our team loved the idea of a hybrid that merged the fun of collectible play with unique-looking action figures. And, the chance to discover something of real value (gold-dipped treasure) was the perfect way to make a child feel the same way an adult does.
The multi-layered unboxing process, complete with the ultimate surprise reveal is unlike anything else in the market and this has ensured the continued success of Treasure X.
RM: What does the Treasure X marketing campaign involve?
RF: With such an innovative toy, we had to think out of the box for Treasure X. We developed a multi-tier approach that incorporated an edgy television commercial to show the unique play of Treasure X and focused on the chance to discover real gold treasure. We also facilitated partnerships with a suite of strong YouTube influencers who took the treasure hunt concept and gave their own unique spin.
Our team created an epic 90-second trailer that was used to build buzz for the brand before the toy appeared on shelf. An industry first, the trailer helped tell the story of Treasure X and the various characters and has amassed over 7.4 million views since launch.
We partnered with Geo Caching, the hot global treasure hunt experience, to deposit caches across the globe and host the world's largest treasure hunt, and we have a series of webisodes launching on YouTube in Fall 2018.
RM: What do you attribute to the huge success of Pikmi Pops?
RF: Pikmi Pops disrupted the toy market. At launch, there was nothing else like it in the category and as the brand has continued to grow, the product has continued to evolve into a top-tier item.
The unique packaging set it apart from competitors from the beginning and fans absolutely love the multi-layered unboxing experience, scented plush, character selection and quirky surprises found inside.
RM: What types of companies are best to partner with for licensing? What licensed products are becoming popular with Pikmi Pops?
RF: We utilize our agent network to work with best-in-class licensing partners. We have been very fortunate to build a great portfolio of partners thanks to Shopkins and due to this success, we now have over 35 international partners for Pikmi Pops.
Expect to see great Pikmi Pops publishing, games, apparel and stationery in Fall 18 with more product to come in Spring 19.
RM: Shopkins is so major – what are your plans to grow the brand going forward?
RF: We are very proud of the success of Shopkins and that its lifecycle as extended two years of that than a standard collectible product.
We are looking forward to releasing Season 11 in 2019 and some very exciting new partnerships! All will be revealed soon.
RM: What does the future look like for Moose Toys?
RF: The future at Moose is definitely bright! We have spent the last 12 months investing heavily in people, infrastructure and products, and we continue to focus on innovation and key partnerships.
We recently partnered with Epic Games as the partner for Fortnite collectibles and have some more exciting licensing news to come in 2019.
2018 saw us introduce a new category – robotics. Now, MiBro is selling out across the globe leading into the holidays. This is a great example of the success we are seeing as our portfolio continues to diversify.
It was announced this week that Moose had five toys nominated across four categories for the 2019 US Toy of the Year Awards – the Oscars of the Toy Industry – so we are very proud of this achievement and excited to see what 2019 and beyond holds for our team!