National Call For Nominations: L'Oreal Paris Announces Start Of The Eighth Annual Women Of Worth Awards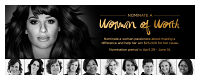 May 21, 2013 – Millions of women across the country are making extraordinary differences in their communities every day. L'Oreal Paris believes these women should be celebrated and is committed to doing so through its signature Women of Worth program. Now in its eighth year, the program has honored 70 inspiring women for their selfless dedication to volunteerism and charitable efforts. This year, L'Oreal Paris is partnering with brand spokesperson Lea Michele to help select ten inspiring women to join the 2013 Women of Worth roster.
"Year after year, we are inspired by the stories shared about our Women Of Worth honorees whose kindness and selflessness are exhibited by the positive change they've made within their communities," said Women of Worth ambassador and L'Oreal Paris brand spokesperson, actress Lea Michele. "I'm proud to be part of this movement that honors amazing women and, by doing so, helps to motivate others to take action."
More than 40 years ago, L'Oreal Paris' iconic brand philosophy "Because I'm Worth It" was launched to celebrate a woman's worth and self-esteem. This signature phrase came to life eight years ago in a new way when L'Oreal Paris established Women Of Worth – a program that honors everyday women who are passionate about making an extraordinary difference in their communities. The program seeks nominees who embody this philosophy through their commitment to a variety of social causes.
"The iconic 'Because I'm Worth It' tagline was written by a fearless, passionate woman with a creative, independent vision," said L'Oreal Paris President Karen T. Fondu. "Our past Women Of Worth honorees also share a unique vision for improving lives and communities across the country. I am excited to once again identify and honor ten exceptional women and be inspired by their stories."

Since 2006, the Women Of Worth program has honored and celebrated 70 inspiring women who selflessly made a difference in their communities through volunteerism, charitable efforts and compassion. Past honorees have been involved in a diverse array of causes. They have advocated for victims of childhood abuse, mentored homeless youth to help break the cycle of poverty, and empowered teens with disabilities. These Women Of Worth have selflessly devoted themselves to causes at the local and national level, and have motivated others to get involved.
Following their Women Of Worth recognition, past honorees have gone on to receive additional accolades including the Significant Awareness Presidential Service Medal, the National Integris Community Hero award and the Top Ten CNN Hero award. Additionally, awareness of honorees' charities has increased resulting in organizational growth of up to 1,000%, and additional support through volunteerism and donations. In the coming weeks, L'Oreal Paris will profile some of these past honorees to inspire and share what it means to be a Woman Of Worth.

The Women Of Worth nomination period is now open and runs through June 14, 2013. New this year, nominations will be organized into five groups by decades, recognizing women across a wide range of ages: 18-29 year olds, 30-39 year olds, 40-49 year olds, 50-59 year olds and 60+ year olds. Two winners will be chosen from each age group.
"Women Of Worth honorees show us what's possible when we take that first simple step to help a neighbor in need," said Michelle Nunn, CEO of Points of Light, the largest organization in the world dedicated to volunteer service and L'Oreal Paris' long-standing nonprofit partner in the Women Of Worth Awards. "That step – and these women – inspire us to do more."