Sony Launches 4K Ultra HD TV Marketing Campaign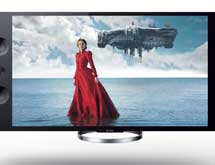 May 20, 2013 – In support of its new 4K Ultra HD TVs shipping this week, Sony Electronics today launched an integrated marketing campaign celebrating the stunning color and picture resolution of 4K.
The campaign features Garth Davis, who most recently co-directed Jane Campion's critically acclaimed miniseries Top of the Lake. After seeing Sony's amazing 4K picture quality on a Sony 4K Ultra HD TV at the Sundance Film Festival, Davis was inspired to make a 4K film to allow viewers to see deeper into his imagination. Working alongside Academy Award winning cinematographer Claudio Miranda, ASC, the commercial spot encompassing Davis' vision was shot on the Sony F65 and F55 professional 4K cameras. Native 4K footage from the shoot will be showcased at retail next month where it can be enjoyed in its finest detail on Sony 4K TVs.
"The Sony 4K Ultra HD TV really is a new way of looking at things, a new visual language. There is so much detail, it's almost like you can walk into the picture," said Davis. "One of the things unique to the TV is color. And the story we've been creating for this project is about celebrating color in lots of ways. With Sony 4K we are working at the highest end of technology and creativity."
"It is so nice to have a larger color gamut to work with in 4K," added Miranda. "You can extract more information and show what you may not have seen before on a TV. Working with Sony 4K truly opens up the possibilities."