Thanasi Foods Launches Bigs – Old Bay Catch of the Day Sunflower Seeds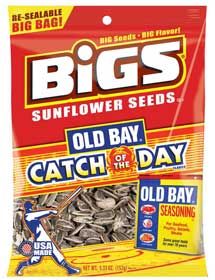 May 17, 2013 – Thanasi Foods, LLC has announced yet another category first with its new Bigs – Old Bay Catch of the Day Sunflower Seeds. For more than 70 years, Old Bay has been known and celebrated for its distinctive blend of 18 herbs and spices, its time-honored taste, and the iconic yellow and blue can. Once only enjoyed by a lucky few along the Chesapeake Bay, Old Bay Seasoning has gained loyal fans all across the country.
"Consumer demand and excitement for an Old Bay flavored sunflower seed has been impressively high," said Justin Havlick, Thanasi Foods President and Founder. "Old Bay's powerful connection with consumers and its deep-rooted American heritage are a perfect fit for our flavorful, American-made and rapidly growing Bigs brand."
"These seeds are packed full of flavor and we're excited to get them into the hands of our fans," added Havlick. "We've seen Cajun and Chesapeake flavors drive potato chip sales, and we're proud to be the first to bring this bold flavor and innovation to the Sunflower Seeds category."
"Combining Bigs Sunflower Seeds and the stand out flavor of Old Bay makes some truly delicious seeds and we're thrilled to deliver it to Old Bay and Bigs passionate fans alike," said Ben Flood, Old Bay brand manager. "The Bigs brand is a great fit for Old Bay and we expect strong consumer response at retail given the great momentum behind both brands."
In addition to the excitement they bring to their respective categories, both brands are riding high. Selling more than 55 million ounces each year across the country, Old Bay is the #1 selling seafood seasoning blend in the U.S. Since the brand was launched in 2009, Bigs remains the fastest growing brand of sunflower seeds in both the United States and Canada.
Beginning February 2013, the Bigs – Old Bay Catch of the Day Sunflower Seeds will be available for retailers and distributors in the U.S. in 5.35 oz. resealable bags and 0.07 oz. trial packs. Merchandising options include 12-count cases, 12-count clip-strips and numerous Bigs variety pack configurations.
Beanstalk serves as Old Bay's exclusive brand licensing agency.