"We work through licensees to make sure they have the best products, whatever their style," Rhiannon Madden says. "We always say our fans are at the center of everything we do."
Madden is the vice president of consumer products for the NFL, which will begin its 100th season this September with its Kickoff Game between the Chicago Bears and the Green Bay Packers. But the league has already started celebrating its centennial.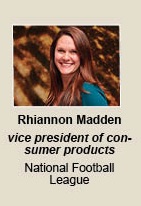 During Super Bowl LIII, it debuted a commercial highlighting the anniversary, featuring NFL icons. The NFL will continue throughout this season on the field, as each team wears jerseys and uses Wilson footballs featuring the NFL 100 logo.
The league also will debut programming commemorating 100 seasons with topics such as the 100 greatest football players and the 100 greatest plays, such as the Miracle at the Meadowlands. "It's a way of celebrating 100 years of the game, our players and our fans," Madden explains. "You'll see a tremendous amount of programs through the NFL Network."
The celebration also includes initiatives that contribute to American communities, including its "Huddle for 100" program, where fans will spend 100 minutes of their time under an umbrella for charities. "We hope that we get a million people to volunteer," she says.
"You might have differences, but when you are fans, you're all unified," she says, adding that the league plans to track progress and participation via the hashtag #Huddlefor100. "It's about inspiring people to be active in the communities and work with a cause that they're passionate about."
The NFL also will hold "Fantennial Weekends," for each of its teams. During the events, Madden says, teams will honor the fans by with appearances by former players.
"They're going to have those legends coming home," she says, adding that the teams may have local high school athletes do the coin tosses at the beginning of the games. "The fans will feel very much that they are part of the celebration."
Honoring the Legacy
The NFL also is excited about new licensed products that honor its legacy. "It's not just about this season," Madden declares. "It's about 100 years of football."
Mitchell & Ness Nostalgia Co. made its NFL debut in 1933 when it started making uniforms for the Philadelphia Eagles, a partnership that would continue for 30 years. Today, it offers authentic vintage jerseys and to celebrate NFL100 have developed throwback designed shirts celebrating the history of each team.
New Era Cap Co was established 99 years ago and is celebrating NFL100 by using design elements from each team's established year and updating them with modern fabrics and treatments. Teams established in the early era of the NFL will have design elements such as wool, felt appliqués and piping. Teams established during more recent times will have design elements such as script wordmarks, mesh and pinwheeled colors.
Lifestyle brand '47, who is rooted in family values and genuine relationships, is focusing on honoring Super Bowl wins. They'll feature shirts, sweatshirts and headwear with designs from the decade of their Super Bowl title. The Northwest Co. also introduced new throw blankets that feature iconic moments from the sport including the Immaculate Reception and Legends of the Midway. "It's a nod to both the past and the future," Madden says, adding that the league has seen a strong response to an NFL 100 pin being sold by WinCraft Inc.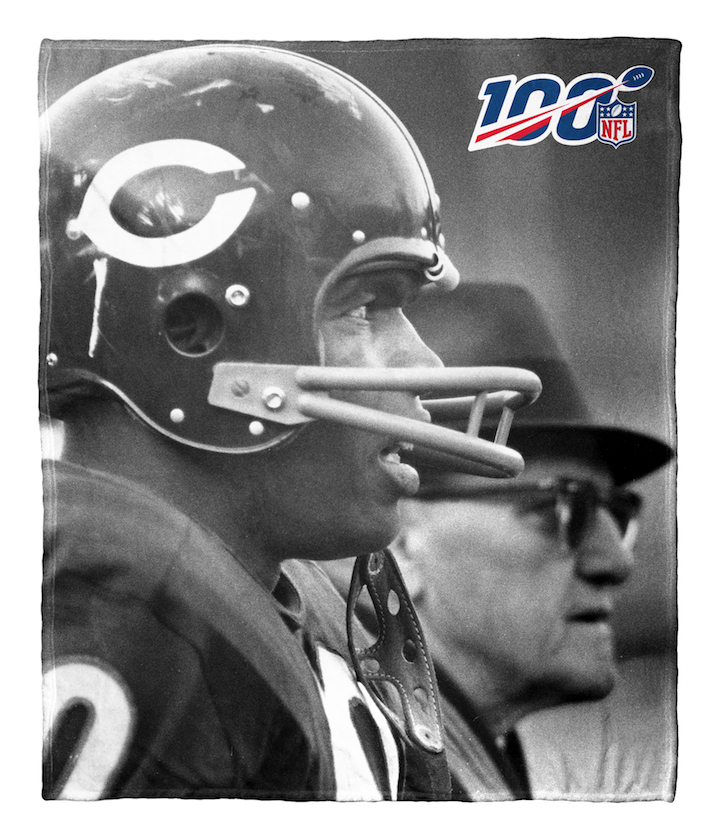 During the game in-season, fans will see the player's uniforms updated to feature the NFL100 mark on the yoke. The Wilson football has been used in every NFL football game ever played and is updated this season with the NFL100 mark. Nike has also developed a Platinum Collection to be worn by all teams Week 1 and during Fantennial games.
"It's beautiful and commemorative," she says, noting that retailers NFL Shop, Dick's Sporting Goods, Walmart, and Lids will carry NFL 100 product. Dick's Sporting Goods will feature NFL 100 displays featuring the Wilson gold football in select stores.
Rewarding Work
Madden is a longtime veteran of the NFL. After she graduated from the Fashion Institute of Technology with a degree in marketing and communications, Madden started working in the league's marketing department, and then worked in the International department before moving into consumer products.
It was there that she was able to apply her experience from FIT. "I had worked in apparel and worked in a showroom for a number of years," she recalls, noting that she has managed nearly every aspect of licensing for the NFL, ranging from its many categories of hardlines as well as mens, womens and youth apparel and headwear.
After all these years, Madden enjoys the diversity of the work at the NFL, where no day is exactly the same. "There are always new challenges," she says. "Every year is different and every team has the chance to win the Super Bowl. It's any team's year."
Madden has taken pride in giving fans tactile pieces of the sport to show their pride. "It's something you can be really proud of, especially when I see women wearing NFL gear," Madden describes. "It was a tough thing to get right."
The NFL managed that, she notes, by broadening its product offering. Today, "People have very different styles and tastes in how they dress," she says. "We have really made huge strides in really having the product that makes our fans feel good, whether it's apparel or home-gating products."
With these products, fans are able to watch the games at homes with their friends and families. "That's something really brings people together and makes people happy," Madden says. "It's a great thing to be able to do."
Business Evolution
Madden sees a strong future for the NFL, which is currently seeing shifts among its fan base in terms of what they are looking for in its products. Many fans are seeking products that are customized or specific to their own personal sensibilities.
"Our fans want to feel that their individual styles are showcased," she says, noting that it is similar to what is occurring in the fashion world. "It is mirroring that with unique and different products."
The ways that they shop and consume media is changing rapidly as well, which has required the NFL to keep track of what they are responding to. "What worked last year isn't going to work this year," Madden says. "We need to stay on top of that when it comes to retail."
Another initiative for the league going forward, she notes, is Better Brands, where it will apply a revised screening process in selecting brands to partner with. "We want to make sure it's not alienating any of our fans and potentially opens us up to a new audience," she says.
The NFL also plans to continue pursuing licensing when it e-sports and gaming. "This is a true launching pad for our business as the retail landscape evolves," Madden says. "[We'll find] new ways to excite our fans and new ways to engage with the NFL. The 101st season is a great reason to start thinking about those things."