Ford Gum & Machine Company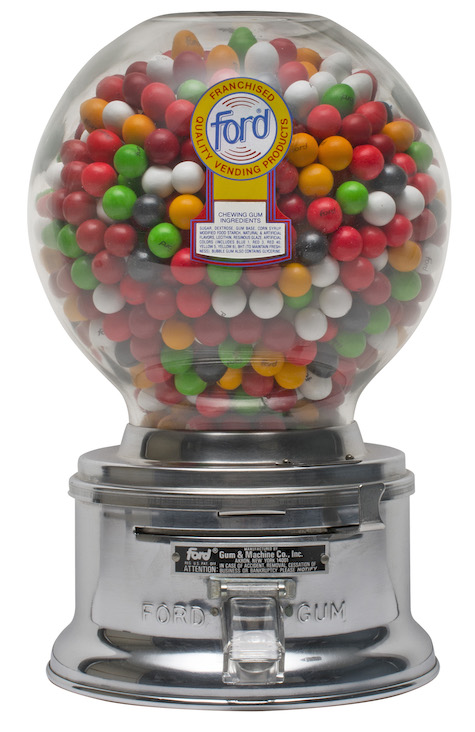 Ford Gum & Machine succeeds with new channels, new products and licensing.
By Mark Lawton
To survive and thrive over 106 years, Ford Gum & Machine Company (FGMC) has adapted to changing markets and tastes. That has been particularly true in recent decades where the number of retailers has shrunk.
"At one time, we did a lot of business with Sears, JC Penney, Toys R Us and drug stores," says Steve Greene, senior vice president and co-owner of FGMC.
Today, FGMC has redirected much of its retail business to convenience stores and value channels such as dollar stores. "There are 100,000-plus convenience stores in the United States," Greene says. "We have tailored our programs to fit those trade classes."
It has worked. Only two years ago, FGMC lost significant volume when Toys R Us declared bankruptcy. This year, the company is seeing double-digit growth. "We changed direction and put emphasis on different areas, and it is starting to show results," Greene says.
Always Evolving
FGMC was founded by Ford Mason, a 20-year-old roofing salesman who spent much of the year traveling by horse and buggy in western New York. With idle time during the winter of 1913, he met a man in the business of chewing gum vending machines, which had been invented just a few years earlier and Mason decided the business had potential.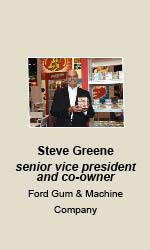 Mason borrowed money, leased 102 gumball machines and placed them in stores and shops in western New York. He continued in the roofing business but each winter he restocked the gumball machines and collected pennies.
Over time, Mason thought the gum business could support him. Many gumball machines at the time, however, were of poor quality, as was the gum. Mason decided to leave the roofing business and start his own company to manufacture both gumballs and gumball machines.
Today, FGMC is the largest distributor of both gumballs and gumball machines in the United States although the overall market has shrunk. Gumballs, bulk gum and packaged refills now account for 15 to 20 percent of business at FGMC.
"The heritage of the company is in charity and bulk vending but if were still only in bulk vending, we wouldn't be around anymore," Greene says. "We had to evolve to survive."
FGMC has evolved multiple times. In the 1960s, FGMC began offering private label gum manufacturing, which now accounts for about 20 percent of business.
In another instance, the company sold seasonal novelty products for many years. Then the major companies in the industry decided to get into the field. Rather than competing, FGMC decided to move into licensing. "When you are a small company and don't have the resources, it is hard to build a brand," Greene says. "With licensing, you have the right to use a brand that has been built and established."
FGMC has licensed Disney, Just Born Company products – to produce Mike and Ike and Hot Tamales – and continues to license Smarties.
Big League Chew
Perhaps the company's most important change came in 2010, when it acquired Big League Chew from the Wrigley Company. "Wrigley kind of neglected it for several years," Greene says. "It needed a little attention when we got it."
FGMC moved production from Mexico to its plant in Akron, N.Y., and focused on product extension and growing the brand. It began shipping Big League Chew in 2011. "Since 2011, we have more than doubled the volume being done when we acquired it," Greene says.
Big League Chew now accounts for about 30 percent of total sales at FGMC and Greene says there is the opportunity for further growth.
This year, the company introduced female characters on the packaging of Big League Chew, the first time ever in the product's 40-year history. "It has been a very successful program for us," Greene says. "We have gotten support from a number of national retailers and distributors. We have garnered a tremendous amount of publicity."
As a smaller company, FGMC mostly does trade advertising and cross-promotional activities. It has an agreement with the National Baseball Hall of Fame and sponsors a contest each season for an all-expense paid trip to the hall in Cooperstown, N.Y. The company has agreements to supply Big League Chew to both the Baltimore Orioles and opposing team at Camden Yards stadium, sells Big League Chew at several major league stadiums and sponsors baseball teams in South Korea and the United Kingdom.
FGMC continues to evolve. At the Sweets and Snacks Expo in May, the company introduced a new line of chewing gum using the flavors of Jelly Belly jelly beans. FGMC planned to start sales in August and to start shipping in March 2020.
"This is sort of new for us," Greene says. "The target demographic is a little older than what we are used to dealing with; females 25 to 44 with kids. It kind of plays into our expertise on the manufacturing end. We worked with a flavor supplier for Jelly Belly to get the same flavors as the jelly beans so consumer are not disappointed."
With its upcoming Jelly Belly gum, FGMC is considering "putting our toe in the water as far as consumer advertising," Greene says.
He adds, "People know the brands. We have continued to grow our business. There are not too many companies that are 106 years old. You either adapt or perish. We have done, I think, a very good job of adapting."