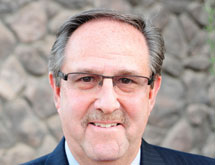 When people buy glasses or visit a doctor for eyecare, they want to go to someone they can trust their eyes with.
Nationwide Vision strives to be that trusted care provider. Based in Chandler, Ariz., the company's 64 locations in its home state specialize in comprehensive eye and medical exams, large selections of designer eye glasses, all major brands of contact lenses and surgical procedures, including Lasik, Intraocular contact lenses, Clear lens exchange and Cataract procedures.
Dr. Neal Weinstein and Dr. Mark Hechtman founded the company in 1985, and today, it remains solely owned by the doctors. Additionally, Nationwide Vision is Arizona's largest optical retailer and the 15th-largest optical retail chain in the United States. In the next three years, the company plans to open 15 new Arizona locations.
"Our doctors and staff firmly believe in working together to deliver the best patient-care experience," Nationwide Vision says. "No matter what our patients' eye care needs are and how those needs might change, we have the resources and expertise to meet all our patients' vision needs.
The Right Balance
Nationwide Vision sells a broad range of eyewear products in its stores. "With our wonderful Arizona sunshine in mind, we offer a variety of sunglasses to protect our patients' eyes and meet their lifestyle needs," the company says.
Nationwide Vision offers more than 1,200 frames. "We provide such a great balance between fashion, quality and affordability that our patients may just have to pick more than one pair," Nationwide Vision says.
Its brands include Coach, Michael Kors, Oakley, Guess, Prada, Converse and Ray-Ban.
Along with frames, Nationwide Vision offers lens treatment, including anti-reflective and photo chromic treatments to protect the lenses and keep them nearly invisible as well as transitioning to sunglasses when exposed to the outdoors. Additionally, "Our lightweight, impact-resistant polycarbonate lenses will work great for our lots of patients and also provide the ultimate protection for their kids," the company states.
Looking Into the Eye
Maintaining the health of its patients' eyes is Nationwide Vision's No. 1 priority. "Knowing how much our patients value their vision, we have the most extensive testing and comprehensive eye exams available," the company says.
But unlike regular vision screenings, Nationwide Vision's comprehensive exams also test for diabetes-related issues, glaucoma and cataracts.
"Testing for these diseases is especially important because many of the early symptoms can be detected only by looking into the back of the eye itself," the company says.
Nationwide Vision's optometrists can treat intraocular pressure related to glaucoma. "With medicated drops, we can decrease the ocular pressures," the company says. "If medication proves unsuccessful, we have a number of both laser and traditional surgical options to alleviate pressure."
Superior Surgery
Nationwide Vision explains that it is dedicated to providing customers with state-of-the-art custom Lasik surgery and aftercare. "Our team of medical professionals work together to give our patients superior results, quality care – from the moment they walk in for a consultation to the last postoperative appointment they receive," the company says.
According to Nationwide Vision, its laser eye facility is one of the leading vision-correction centers in Arizona and has served more than 35,000 patients. "Our experience is backed by a team of dedicated staff, optometrists and ophthalmologists," the company declares. Nationwide Vision's location in central Phoenix allows for the ease of access of patients throughout Arizona.
Nationwide Vision also works with state-of-the-art technology and FDA-approved lasers, including the VISX Star 4, the Intralase and NIDEK EC 5000. "Having Lasik is a life-changing procedure and the treatment is minimally invasive, virtually painless and conducted on an outpatient basis in our laser and medical center," the company says.
Sharing Its Fortune
Eyeware is not the only area where Nationwide Vision helps people. "As members of the Arizona community, our team also believes in sharing our good fortune with those in our neighboring communities who need help the most," Nationwide Vision says.
The company contributes to causes related to children, including the Pappas Kids Schoolhouse Foundation. This group "focuses on funding Children's First Academy for homeless and underprivileged children to succeed and grow in a positive educational environment," Nationwide Vision says.
"Since 2007, the foundation has provided hundreds of scholarships annually for homeless and underprivileged children so that they have an opportunity to attend Arizona-qualified private schools," the company says. "Nationwide Vision assists in ensuring the children at Children's First Academy have healthy eyes, food and holiday cheer throughout the year."
Annually, the company visits the academy's campuses in Phoenix and Tempe, Ariz., to provide vision screenings for its 500 students. "In 2011, we produced and distributed 300 pairs of glasses to children who needed them," the company says.
It also contributes to the Academy's food drive. "Every summer, the Children's First Academy struggles to meet the needs of their families registered under the food box program," the company states. "In 2011, we gave the Tempe and Phoenix campuses 9,000 pounds of non-perishable food items, which provided three meals a day for children and their families in the summer break."
Last year, Nationwide Vision sponsored a toy drive for Arizona's homeless children. "Through generous support from our employees and local community, we collected more than $5,000 and purchased 610 toys for the children of both campuses," the company says.