New Golf Fashion Line from Italian Luxury Brand Treccani Milano Set to Debut at 2013 Toronto Golf Show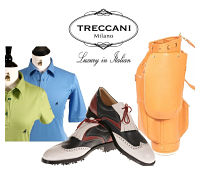 Feb. 28, 2013 – The golf world is about to finally experience authentic Italian fashion as luxury brand Treccani Milano is added to the lineup at the 2013 Toronto Golf Show — the most important golf expo in Canada, and one of the most prestigious in North America. Best known for its bespoke service for exquisite leather shoes and purses, the Milan-based company with a retail space in Toronto and online store recently expanded its product line to feature custom golf gear that is 100% handmade in Italy. Now, it's ready to showcase its special brand of Italian luxury directly to golfers with extraordinary taste, including the 30,000 who are expected to attend the 2013 Toronto Golf Show from March 1-3 at the Metro Toronto Convention Centre.
At the show, Treccani Milano will offer a close-up view of its leather golf shoes and bags, which are available for custom order in a wide selection of luxe leathers including alligator, ostrich and calf. Golf bags can be personalized with monograms and stamped logos in silver, 18K gold or platinum. The line's new custom golf shirts – available in a wide array of different fabrics and colors, as well as sleeve, stitching and button options – will also be on display and available for order.
"Golf has become an extremely stylish sport over the last few years, so we are very excited to be able to provide bespoke service to golfers who are looking for something unique to add to their game," explains Emanuele Bonasia, Co-Founder of Treccani Milano.
Once a customer has selected the product they wish to purchase, all the measurements and requests are sent to artisans in the company's Milano bottega (Italian for lab) who then create it by hand to the customer's exact specifications – size and otherwise. Production and shipping times vary, and golfers should expect eight to ten weeks for their custom golf shoes, 12 weeks for their leather golf bags and four weeks for their polo shirts. No minimum purchase is required and worldwide shipping is available on all products.