OpenTable Launches "Places I've Eaten" Facebook App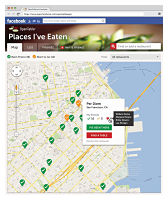 Feb. 28, 2013 – OpenTable, a leading provider of online restaurant reservations, today announced the introduction of its new Facebook app, "Places I've Eaten." The new app makes it easy for people to share their dining history, favorite restaurants and wish lists with friends on Facebook. The app also enables people on Facebook to see where their friends have dined, see their own and their friends' ratings, share recommendations, tag friends with whom they've dined and make reservations.
"Places I've Eaten makes it easy for diners to share and be inspired by memorable dining experiences and to tap into their friends' knowledge of local dining scenes," said Scott Jampol, Vice President of Consumer Marketing at OpenTable. "We hope the app will help diners discover new hot spots, share recommendations with friends, and experience their favorite restaurants all over again."
Places I've Eaten provides a new way for people to share and memorialize their dining experiences. Diners can easily add the restaurants they have visited through OpenTable to their Facebook Timeline, and the app makes it simple for diners to build a list of restaurants they want to visit and see which of their friends also have them on their wish lists or have already dined there. OpenTable members who opt to use Places I've Eaten may keep their dining history private or allow the app to post to their timeline and be visible to some or all of their friends on Facebook. To find out more about Places I've Eaten or access the web-based app, visit: http://www.opentable.com/PlacesIveEaten.