Life is good Donates 10 Percent of Net Profits to Help Kids in Need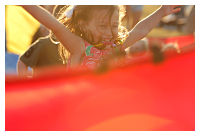 Feb. 27, 2013 — Life is good, the Boston-based lifestyle brand, today announced that the company will now donate 10 percent of its net profits to help kids in need through The Life is good Kids Foundation. This commitment is a new way the brand is fulfilling its mission of spreading the power of optimism.
"To date, we have helped raise $9.5 million to help kids in need, but we're just getting started. With this 10 percent donation announcement we are making an ongoing, long-term commitment," said Bert Jacobs, chief executive optimist of Life is good. "This decision solidifies how Life is good chooses to use business as a driver of social change by making it simple: When you do business with Life is good, you help kids in need."
In addition to committing 10 percent of its net profits to The Life is good Kids Foundation, Life is good will continue to spread optimism and help kids in need through the following channels:
Products: Optimistic apparel and accessories that feature positive messages and emphasize simplicity, humor and humility.
The Life is good Festival: An annual two-day celebration of music and optimism that raises money for kids in need. The Life is good Kids Foundation receives 100 percent of the funds raised.
Partnerships: Best-In-Class partnerships with brands like Hallmark Cards, Inc., announced in October 2012, that extend the brand's message and reach new optimists.
Community fundraising: The brand's fundraising engine that provides ideas, inspiration and tools to its community of optimists that allow them to fundraise all year long, from birthday parties to Monday night football.
Speaking engagements: Co-founders Bert and John Jacobs donate all proceeds from their speaking engagements to The Life is good Kids Foundation.
To reinforce the brand's latest commitment, Life is good is calling on its community of optimists to share something good in their day or to be the good that happens to somebody else on Facebook and Twitter using #PositivePurpose. Be inspired by members of Life is good's community of optimists and learn more about Life is good's Positive Purpose in the company's latest video: http://youtu.be/00PPXilS9wA.