New Smarter, Stronger Lego Mindstorms EV3 Unveiled At CES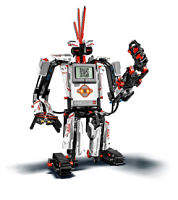 Jan. 7, 2013 – Today The Lego Group announced Lego Mindstorms EV3, a new platform for consumer robotics designed to introduce a younger generation to the excitement of building and programming robots while adding new flexibility for its devoted following of robotics enthusiasts. Unveiled for the first time at the Consumer Electronics Show in Las Vegas, Nevada, Lego Mindstorms EV3 is the result of three years of product development by an international team of Lego designers, Mindstorms user-enthusiasts and leading technology experts. Lego Mindstorms EV3, available in summer 2013, will be previewed to members of the global media at Digital Experience! on January 7 and will be demonstrated to CES attendees during the Kids@Play Summit, January 8-11, 2013, in the Venetian Hotel.
"Fifteen years ago, we were among the first companies to help children use the power of technology to add life-like behaviors to their Lego creations with the Mindstorms platform," said Camilla Bottke, Lego Mindstorms project lead at The Lego Group. "Now, we are equipping today's tech-literate generation of children with a more accessible, yet sophisticated robotics kit that meets their tech play expectations and abilities to truly unleash their potential so that they may surprise, impress and excite the world with their creativity."
Lego Mindstorms EV3 is the most international robotics platform the company has ever developed. In response to a growing demand from emerging markets, for the first time Mindstorms will be released with native language editions for Russia, China, Korea, Japan, Spain and Denmark in addition to the English, French, German and Dutch language versions available today. The company assembled a multinational team of product designers and enthusiasts to create the new Mindstorms platform; product designers from across Europe and the U.S. worked together to develop the software and hardware for three years while a core team of 12 user-enthusiasts from Greece to Canada have been testing the limits of the platform and working on apps, models, and hacking environments.