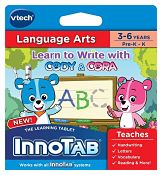 April 23, 2014 – This spring, VTech will introduce new products that build upon its legacy as a learning authority. New spring products were added to its award-winning infant and preschool, Switch & Go Dinos and Go! Go! Smart Wheels lines as well as new Learning Cartridges for its popular kid-friendly InnoTab Learning Tablets, offering engaging, innovative introductions that make learning fun.
"Toys that incorporate fun into learning are an important part of child development," says Dr. Lise Eliot, Early Childhood Development Expert and VTech Toy Development Consultant. "Fun experiences feed a child's curiosity and encourage learning and exploration, allowing them to absorb new skills and expand their knowledge."
VTech works closely with a panel of children's learning specialists on the development of its infant and preschool learning products. Each one of the Expert Panel members specializes in developmental or educational fields for children from birth through 9 years of age. VTech and the Expert Panel collaborate to ensure their products and content deliver the best learning experience possible for each child at every stage of development.
Each child grows at a different pace mentally, emotionally and physically, and has different needs as they grow through various life stages. Insight from these developmental and education experts allows VTech to provide parents with guidelines and recommendations to help them make informed choices. VTech delivers an expansive selection of toys that are appropriate for their child's particular age and stage and to accompany them as they continue to grow and reach new developmental milestones.