New Ultra-Thin And Featherweight Motorcycle Bluetooth Headset/intercom By Sena Technologies, Inc. Offers Aerodynamic Look & Feel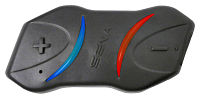 Jan. 31, 2013 – Sena Technologies, Inc., a Bluetooth innovator in the motorcycle and outdoor activities market, today announced the release of its sleek and aerodynamic SMH10R Bluetooth Stereo Headset and Intercom. The all-new Sena SMH10R features a stunning new shape and slim profile, which is only slightly thicker than a United States quarter, while still offering eight hours of talk time, seven days of standby time, plus the same long range, more than one-half mile talk distance on intercom as Sena's flagship SMH10 Bluetooth headset/intercom system.
The Sena SMH10R utilizes the latest in Bluetooth v3.0 technology and incorporates a stereo headset with long-range Bluetooth intercom designed specifically for riders who prefer smaller form factor for maximizing their riding performance, yet maintaining rich features of Bluetooth intercom. Riders can make hands-free mobile phone calls, listen to stereo music or voice instructions of GPS navigations by Bluetooth wirelessly, and have intercom conversations in full duplex with up to three other riders or passengers. The SMH10R is now available at the Sena Technologies website (www.SenaBluetooth.com) or through its many retailers across North America.
"One of the most important things we do here at Sena is to listen to our customers," said Tae Kim, President and CEO of Sena Technologies, Inc. "We are very pleased with the functionality and popularity of the Sena SMH10, the first and flagship Bluetooth headset for motorcycle riders. Many riders told us they were looking for a Bluetooth headset with the full capabilities of the SMH10, but that had a smaller and more streamlined profile. Our engineers poured over this, got the technology that comes inside the SMH10 even more streamlined and what came out is the SMH10R. I am very happy with it and we are confident our customers will be happy too."
The Sena SMH10R comes standard with features motorcycle riders will appreciate including Bluetooth 3.0, intercom talk distance of more than one-half mile, an ultra-slim and feather-light profile, four-way conference intercom, the ability to conference in a phone call with an intercom participant, multipoint for mobile phone and GPS, voice prompts, stereo headset for Bluetooth audio devices, playback music control by AVRCP, crystal clear and natural sound quality, ability to charge while in use and more.
Every customer who purchases the SMH10R, or any of Sena's line of Bluetooth headset/intercom units and accessories, automatically receives complimentary access to Sena's customer support in case he or she has questions about installation, set up or use. Most new Sena users find installing and beginning to use their new headset/intercom products is a simple process that only takes about 15 minutes. Whenever they become available, free upgrades to firmware are also offered to all registered Sena customers. They also receive peace of mind with the SMH10R and the company's line of other products thanks to their two-year warranty.