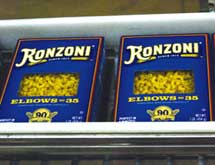 This pasta company knows what consumers want from a plate of pasta. By reorganizing its innovation platform and maintaining a strong corporate structure, it's able to deliver. It was only a few years ago that consumers were heading straight past the pasta aisle and straight to the meat counter. But the no-carb, high-protein diet was just a fad, and as the economy continues to push people to their financial breaking point, more people are heading down that pasta aisle.
To ensure consumers aren't missing out on the nutrition they're still looking for, New World Pasta is innovating its product lines to bring more to the table than carbs without alienating younger consumers.
"The problem with healthy pastas today is that the household gatekeepers, the main grocery shoppers, are afraid their kids or their significant others won't like healthy pasta," said Peter Smith, CEO. "No one wants to assemble a meal and have people turn their noses at it."
To stay on track with the health and wellness macro trend while not letting go of taste, New World Pasta developed Smart Taste, a white pasta with three times the fiber of most white pastas. Smart Taste also contains calcium that is equal to an eight-ounce glass of milk. The most recent innovation to the product is the addition of Vitamin D.
Smith said having great-tasting white pasta with health benefits is important to reach a more mainstream audience. The company's Healthy Harvest product, a whole-wheat pasta, is popular on the coasts but less so in the middle of the country where the commitment to health isn't as strong.
"Most people want health benefits in food, but they're not willing to make a sacrifice on taste," said Smith. "We think this helps introduce health to mainstream pasta eaters while not alienating those who are more committed to health."
Product pipeline
One of New World Pasta's most trusted brands is Ronzoni. As such, the company puts most of its product innovations under the Ronzoni brand to, as Smith puts it, "create a national mega-brand."
However, the company is not overlooking its regional brand equities, including Prince in New England, San Giorgio in the Mid Atlantic, Creamette in the central US, Skinner in Texas, and American Beauty on the West Coast. "We've seen between 20% to 40% growth on some of these brands in 2009," said Smith.
"Consumers have rediscovered these brands and are gathering the family around the table," he continued. "We're developing quick-cook pastas under each of our regional brands in response to their needs."
A key to developing these products is maintaining a strong innovative pipeline, something New World Pasta didn't have when Smith arrived at the company in early 2008. He brought a process to the company he calls Project Tin Man, named after the hat worn by the character in "The Wizard of Oz."
"We use a funnel approach and go through consumer immersion, identify emerging trends, and scour categories," said Smith. Through this process, the team comes up with 200 potential new product ideas that address unmet consumer needs. The next step is doing qualitative work with consumers with online questionnaires and focus groups to vet the ideas with consumers. At the end of the process, the company is typically left with 10 big ideas.
At that point, the company introduces flavors, price points, and marketing approaches and begins doing quantitative work with consumers. "We now have a three-year new-product pipeline," said Smith. "It ensures we're not chasing after little ideas, which is a risk companies take when they chase niches instead of macro trends."
Facilitating communication
In the past year, New World Pasta has grown 29% despite the inflation issues from the increase in the cost of wheat, which was more than 20% in 2008. Smith said for most products, even a 10% price increase equates to losing 5% volume, but for pasta, a 20% price increase led to a 2% increase in sales.
How does this happen? The answer is simple: recession. In the past year, more and more families are rediscovering pasta, which costs an average of $.20 a serving. "We've benefited from consumers rediscovering that pasta is fulfilling, great tasting, brings the family together, and is a tremendous value," Smith said. "Pasta is also one of the great comfort foods."
As New World Pasta continues to grow, Smith and his team recognized the need for a strong ERP system to enable each department to communicate effectively with one another. Its parent company, Ebro Puleva, also owns Riviana Rice in Houston, the largest rice manufacturer in the US.
In the past year, the two companies developed one national sales force for rice and pasta, one finance department, one logistics function, and one common distribution platform. Because Riviana was on a particular system application and process platform already, New World Pasta moved onto it as well.
"We've taken some basic steps such as developing an intranet to facilitate communication within and between the companies," said Smith. "We're are putting in an HRIS (human resources information system) that will manage payroll, employee benefits, etc."
Come together
The next phase of the coming together will focus on merging the companies' two cultures. New World Pasta is differentiating itself in its approach by not leaving it to an HR department or an outside consulting firm to make the big changes. As a group, the company's senior management team is sitting with its counterparts at Riviana to discuss what the new company culture should look like and how they can get employees on board.
"It doesn't help for me as the CEO to get up and tell everyone 'We're now entrepreneurial risk takers,'" said Smith. "Nothing will happen. We have to have a game plan that starts with the senior management team, and we need to demonstrate our corporate culture, not just push it."
Because the company's recent emergence from Chapter 11 is still fresh in many employees' minds, New World Pasta's management and HR teams are also working to motivate employees and let them know they're the company's most valuable assets. To put those words into action, the company is putting each of its employees through a module called Finance for Non-Financial Managers and is working on ways to attract, maintain, and incentivize top-quality employees.
"There aren't many companies that say 'We don't care about our people,' but it is a key strategic initiative for us," said Smith. "We care for our consumers, we nurture our products, but we love our employees, and we want all of those elements to be at the fore of our company culture."