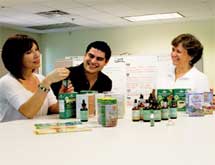 With a unique processing method and the ability to use an all-natural sweetener as more than just a sugar substitute, this stevia producer is quickly making a name for itself in the food industry both as a tabletop sweetener and as an ingredient in food and beverages. "You can imagine my wife's reaction when I told her not to write any checks because I'd given away all of our money the night before to a young man on his way to Paraguay," said May. "In the public eye, I went from being respected as the foremost expert in administrative aspects of end-stage renal disease to being considered a quack because I was interested in herbs."
Within a few months, May went to Paraguay and set up a company to start producing products with stevia. His first trip there, a 27-hour flight, took a toll on his allergies and his ability to sleep, so when he arrived, his Paraguayan friend fixed him a yerba mate tea with stevia in it. Within 45 minutes, May's allergies were gone, and his mental acuity was in tact.
"The yerba mate leaf has about 250 nutrients, and the stevia has 100," said May. "By drinking the combination, you're feeding your body an incredible amount of vitamins, minerals, and healing compounds."
May began bringing the combination, which he calls Yerba Mate Royale, back to the states and gave it to many of his former colleagues. The response he heard was that many of these physicians' patients who were suffering from severe hay fever and other conditions found relief after drinking the tea. As a result, the company's first venture was Wisdom of the Ancients herbal teas, aptly named for the herbal secrets May now understood as passed along by the ancient people of Paraguay.
Red tape
Because of May's belief in the power of stevia beyond its sweetening capabilities, it would seem obvious that producing the stevia extract would be his company's first venture. However, FDA regulations and GD Searle & Company, which was, at the time, under the direction of Donald Rumsfeld, had other ideas in mind.
In 1985, Vegetarian Times did a two-paragraph write up of May and the fact that he was bringing stevia to America. Within weeks, May was called into his local FDA office and told the Washington, DC office demanded he stop bringing the sweetener into the states.
"The regional office had given me the okay to distribute stevia, as long as it didn't harm anyone," said May. "After the article, I had to agree not to bring the product into America as a sweetener, but at that time, they didn't care if I continued to use it in my herbal teas."
May then began to learn about stevia's topical benefits and developed the sweetener into a skincare product. By 1993, he wanted to do more with the extract. In 1994, Congress passed the DSHEA (Dietary Supplement Health and Education Act), allowing herbs and certain nutrients that have a healing benefit to be sold as a dietary supplement. May found his opportunity to act.
After receiving the appropriate authorization, Wisdom Natural Brands sold its SweetLeaf SteviaPlus product, a dietary supplement that included inulin (a vegetable-soluble fiber that is good for the intestinal flora), and other stevia products under its SweetLeaf brand as dietary supplements from 1995 until 2008.
Purest form
In 1997, swamped with GRAS applications, the FDA passed a new regulation. A company could employ its own scientists to perform the required research, declare GRAS status, and then submit the data to FDA for review. A second option was for a company to hire an independent group of GRAS scientists to perform the required study. If the scientists determined the ingredient to be GRAS, signing their names and their reputations to the official document, the company could announce its product as GRAS.
In May 2007, Coca Cola and Cargill announced they were to be the first companies in America to have a GRAS stevia product. Pepsi Cola and Merisant (the makers of Equal) then claimed they would be the first. May quickly chose the second option and got to work.
"I realized if I allowed that to happen I was in deep trouble," May said. "The only way I could survive was to be first, or these giant companies would smother me."
May hired GRAS Associates, a group of former FDA GRAS scientists that had its own business doing scientific research to determine GRAS status of food ingredients. He gathered his 1,700 pages of scientific research on stevia and additional information on SweetLeaf's unique extraction process, sent it along, and waited for the response. "I had no idea what the conclusion would be until the day they called me and said SweetLeaf stevia is GRAS," he said.
Because of SweetLeaf's particular stevia extraction method, which involves only cool, purified water and no chemicals or alcohols, the conclusion only pertained to May's brand of stevia. Just to be on the safe side, May hired Life Science Research Office, which does GRAS declarations for the FDA as a private firm, and had it review his stevia sweetener extract as well.
Sitting on a goldmine
On June 3, 2008, May held a press conference announcing what he'd done and that SweetLeaf stevia was GRAS. It was the first stevia product in America to achieve that status. Today, the product is available in retail establishments and on the company's Web site and is labeled as a sweetener.
"The difference in SweetLeaf and everything else in the market today is that we have developed a process in which we use nothing but purified water to extract the sweet glycosides from the stevia leaves," said May. "Every other company in the world extracts the glycosides by using various solvents, chemicals, alcohols, and additional processes."
According to May, SweetLeaf has been the number one selling stevia brand in America for more than a decade. He said a number of investment companies have approached him wanting to invest in or buy the company, and more than 300 food and beverage companies have contacted May to use SweetLeaf stevia in their products.
His challenge today is the opposite of what it was when he founded the company in the mid-'80s. "We have to figure out how to build factories and grow the leaves fast enough to keep up with the demand," he said. The company has been working with farmers in Latin American countries to increase production, and May's team has also developed a variety of stevia leaf that is vastly superior to anything from China.
"We're sitting on a goldmine," he said. "It's taken a while to get here, but we're poised to grow faster than we ever have."