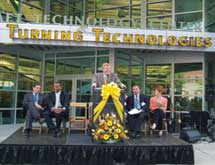 Through this company's audience response technology, businesses in retail, education, healthcare, and beyond find new ways to track responses and put information to work. In today's world, businesses in every industry are clamoring for data, data, and more data. Compiling information and subsequent analysis helps create everything from one-time marketing campaigns to long-term strategic plans. But what if the information is inaccurate, outdated, or misinterpreted? Fortunately, Turning Technologies has a solution: real time audience response technology.
Turning Technologies is based in Youngstown, Ohio and has a team of salespeople spread across the country. The company was formally incorporated in January 2002 based on the potential of audience and student response technology using wireless and handheld devices. That type of technology has been around with wireless devices since the early 1990s, but it had largely been a niche industry, confined to use on a rental basis for corporate meetings and conferences or used in the entertainment industry on game shows like "America's Funniest Home Videos" and "Who Wants to be a Millionaire." But CEO Mike Broderick and the other co-founders felt it could be used for so much more.
"We knew there was real potential to use this technology in education, but it was expensive and complicated. Our idea was to start a new company and build a product with mass potential in the education arena—K-12, higher education, corporate training, and other uses," said Broderick. "We needed to do three things: make it affordable, make it simple to use, and gather empirical data and communicate it effectively on how these devices could make a difference in the classroom, lecture hall, and training room."
Those are still the core driving goals for the company today in a market that has grown exponentially. Whereas it was previously used in the aforementioned one-time rental or game show applications, it is now used in tens of thousands of classrooms, from kindergarten to continuing and corporate education environments. Now, rather than one student raising a hand in math class while everyone else hides from the teacher's view, everyone is forced to answer questions in a manner that is anonymous to peers but known to the teacher and able to be tracked.
"This means people have to be engaged in class or in a presentation, and it can help raise test scores and improve the outcomes of company meetings," Broderick said.
The usefulness of the technology to retail businesses is obvious. Broderick said the company's clients include retail companies using it for market research with focus groups to get feedback on advertising and marketing. Retailers, and indeed any corporation, can use the technology in staff meetings to engage and involve people in crucial decisionmaking processes, something that can boost morale and productivity.
Roughly 40% of Turning Technologies' business is currently at the university level; 30% is in K-12 schools, and the remaining 30% is used by corporate and government entities. Broderick said the majority of Fortune 500 companies use his company's technology at one level or another.
"We are focusing on expanding that and getting more application-specific uses to have our technology used for safety training, certifications, and many other training situations," he said. "Employee surveys will continue to be a big area for us."
Improving information
With so much room for this technology to grow, Turning Technologies has a large R&D team for the size of its company. With a staff of about 140 people, Broderick said more than 20% of the staff is involved in some part of developing for the next generation of the technology. The company launches multiple new products every year, whether it is new software or a new piece of hardware, and Broderick said about eight to 10 products will be launched this year featuring various enhancements and more sophisticated capabilities. Another innovation Broderick pointed to is ResponseWare, the company's new response system for mobile devices.
"It is a virtual system that works off of Web-enabled cell phones and other wireless devices instead of our proprietary hardware," said Broderick. "If you have an iPhone, BlackBerry smartphone, or a Windows Mobile phone, you can still participate. We see that as being very big for us in the future."
Spreading the word about where this technology can be used and how effective it is continues to be an important part of ensuring the company's growth. A few months ago, Turning Technologies launched a user community Web site called turning-talk.com. Billed as a social learning community, the site is meant to be a place where the company's users can share ideas and strategies to get the most out of the technology. The current site is geared toward education, but Broderick said Turning Technologies is also building a corporate user community Web site.
In fact, Turning Technologies treasures the feedback it gets from customers because it is an important piece of the evolution of its products and services. The company has always had beta customers—key customers in each market it serves that use products in development to test them and help ensure the products are ready for a wider rollout.
"We are also expanding what we call a distinguished educators program. We sponsor end users who come with us to industry events and presentations and talk about how they are using our products," said Broderick. "We have a growing list of distinguished educators and an advisory council of customers, chaired by Dr. Eric Mazur, a Balkanski Professor of Physics at Harvard and author of Peer Instruction: A User's Manual."
The big strategy to fuel the company's future, according to Broderick, is international expansion. He predicts international sales will grow at a faster pace than domestic sales and could become as much as 50% of its business in the next five years. The company is now looking at office locations and expanding its reseller distribution network overseas.
But continued and aggressive innovation is at the center of everything Turning Technologies does. Through a constant pipeline of potential products in development, the promise of application-specific product uses in areas like HR and safety, and the feedback of its online user community, Turning Technologies is in an enviable position: it can continue to drive the market while keeping up with technology as it evolves.
"The tech world always moves at an incredible pace," said Broderick. "Keeping up with that and staying ahead of the curve is hard, but we need to embrace the opportunities in front of us because taking advantage of them is crucial."